'Our Town': well done, not well chosen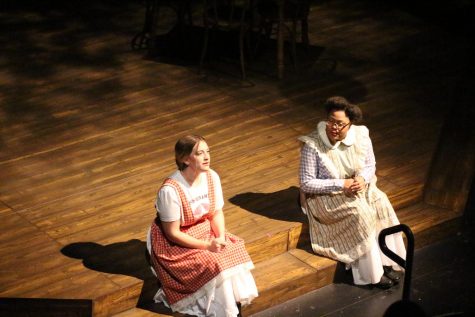 Megan Thorne
"Our Town," a play production put on by the university's theatre department,  was not interesting at all.
It is a three-act play that tells the story of a fictional small town called Grover's Corner between 1901 to 1913. The main character in this story is the stage manager, who addresses the audience, ask questions and fills in the roles of characters.
For students, this play is not as engaging compared to other theatre productions that USI has done. The storyline was very monotonous and repetitive. For a show such as this with college students as the audience, "Our Town" was not a wise choice.
It was outdated and simply mundane. The play did not make sense until during an intermission I took the time to research the play and read about it. Once I read a summary of the play, I was less confused and could understand the play a little more.  
The play held a strong message that as a student could be hard to see.  However, once you pay close attention and understand the director's choice in casting interracial couples as main characters, and the challenges they face, it was clear to see what the director and students were trying to say. There are scenes of protest in the play which shadowed some of the most tragic days in American history. The protesters held signs such as, "No justice, no peace."
Overall, I do believe USI theatre production did an amazing job with the material they had to work with.  The characters showed so much emotion and passion, which made it feel genuine and sincere. As much as I disliked the play itself, I felt as though I was a character going through the situations they were. However, this play was not a good choice to engage college students.  I was not entertained.
Leave a Comment