Women's basketball ready to recoup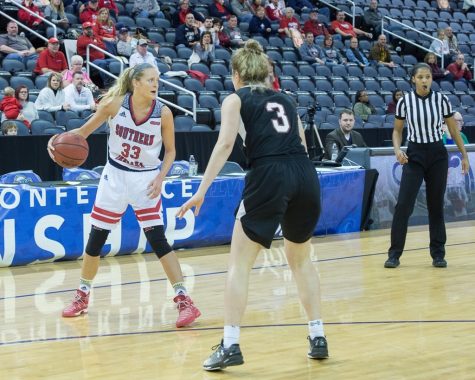 What started out promising ended horribly.
The USI women's basketball team entered the GLVC Tournament in March as the tournament's No. 2 seed with a 14-2 record since the start of 2017 and a 24-4 record overall.
The Lady Screaming Eagles won the GLVC East by two games and with a win against UIndy in the quarterfinals of the GLVC Tournament, there was most certainly an NCAA berth coming their way.
But that's where things went wrong.
UIndy came out shooting, and the shots were landing that cold Friday night at the Ford Center. After 10 minutes of play, USI was down 21-10 to a team with 13 losses.
USI scored 18 points total in the first half, and by that point, it was out of reach. UIndy was up 43-18 at the break and the Greyhounds cruised to a 66-48 victory.
After the game, USI women's head coach, Rick Stein said the team was in wait and see mode. They were sure they had done enough to earn an NCAA berth, but the UIndy loss didn't make it easy on them.
The NCAA Division II Tournament selections were announced March 5, two days after USI suffered its loss to UIndy.
Prior to the committee's selections, USI was tabbed as No. 7 in the final Midwest Region rankings, but after an upset loss to a team just three games over .500, the Screaming Eagles didn't make the cut. The team's season ended with a blowout loss to a team with nothing to lose.
With the 2017-18 season less than two weeks away, Stein and the seven returning players haven't forgotten how last season ended.
If anything, it's what's pushing them to work harder this season.
"Our returning crew is motivated and they've helped motivate this new group that's coming in," Stein said. "There's a feeling of unfinished business out there. We had a good year. We got a banner for the East Division Championship, but this group is hungry and wants more."
One of the reasons the USI coaching staff feels their team was left out of the NCAA Tournament in March is due to what the committee perceived as a weaker strength of schedule.
What muddies matters further is two teams USI finished ahead of in the GLVC East last season, Bellarmine and Lewis, each received NCAA berths, even though USI had wins over both teams.
To avoid having their schedule questioned again, this season USI is preparing for stiff competition early in the season.
"We have a very heavy regional schedule this year," Stein said. "The regional schedule is as loaded as you can find. We're going to find out how we're going to compete right away."
As a whole, USI's opponents this year finished last season with a 454-341 (.571) record. Six of the teams on the schedule went to the NCAA II Tournament and 17 of the teams played in their conference tournaments.
"It's so hard to think a year ahead," he said. "The schedule we put together last year, (had teams) that were 30 or 40 games above .500 than the year before, but they just weren't last year."
The loss to UIndy wasn't the only loss USI suffered that Friday night at the Ford Center. The team also lost five seniors to graduation, including two of the top three leading scorers, Tanner Marcum (14.2 PPG) and Hannah Wascher (12.4 PPG).
But the leading scorer off of last year's squad, Kaydie Grooms (15.4 PPG) is back and entering into her final season as a member of the Lady Screaming Eagles.
Grooms isn't dead set on being the leading scorer in her last season. What matters the most to her is winning, and to do that, she'll do whatever she can to help the team.
"Every year, I've come in and filled the role to the best of my ability of wherever the team needs me," she said. "If that's scoring this year, then I'll definitely be up for that challenge."
Grooms said she and the other players are hungry to begin the season, but they'll have to wait until Nov. 10, and the team has an exhibition Nov. 5 against the University of Kentucky in Lexington before that.
Since Grooms is one of the seven returning players, she knows how last year ended and how important each game is.
"Last year we don't agree with the rankings and how everything worked out, but I think it did nothing but give us a chip on our shoulder," Grooms said. "We have to remember that not any game is given to us and it just took one bad game for us to lose everything we had worked for last season."
The USI women start the regular season against Northwood University in the PAC for part of the GLVC/GLIAC Challenge.