'There is a lack of understanding'
National Geographic documentary sparks gender discussion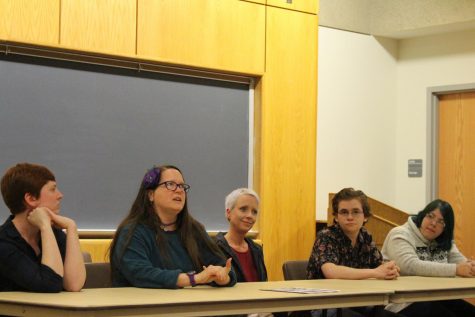 Jenn Horn said there are always people behind labels.
"People have always put each other into categories," the instructor of English said. "But those individuals are human beings whether we agree with their actions or not."
Horn also teaches gender studies classes and has become passionate about the misunderstanding and lack of education in regards to the LGBTQ community.
The university gender studies program hosted a screening of National Geographic's "Gender Revolution: A Journey with Katie Couric" to raise awareness and generate discussion about the topic of gender Wednesday evening.
Five panelists, consisting of three university faculty and two students, answered questions from the audience following the screening.
"Based on how you grew up, you might not know anything about this topic," Horn said. "There is a lack of understanding, and hopefully this event helped those who came look at gender from all perspectives and not just what they have always been told."
Horn said the screening brought to light that there is more than one way of thinking.
"As a gender studies instructor I always hope that by the end of a class students walk away with a little more empathy and awareness," Horn said. "Even if they still use a term that is insensitive, I hope they are at least thinking about how that term could make someone else feel."
Horn said for anyone who missed the screening, the film is available on reserve in the library and is "well worth watching."
The film is a two-hour documentary that follows the journey of Katie Couric, American television journalist, as she set out across America to explore the rapid change of gender and expression.
Couric interviewed families, children, adults, and couples as they tried to make sense of their reality. The film explored the transgender community, and the dramatic consequences being assigned the wrong gender can have on individuals.
The film explained that unlike many believe, gender and sexuality are not the same. Gender is who you go to bed as, and sexuality is who you go to bed with. The film briefly mentioned the Genderbread person, a colorful and easy way to understand the concept of what gender really is.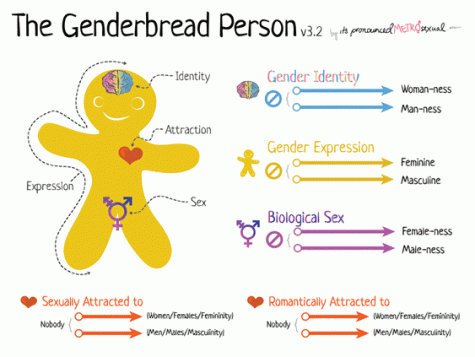 Journal of the Medical Library Association
Chrissy Robinson said she has empathy for people who are different than her.
Growing up in a Conservative home, the freshman undecided major was taught that there are two classification groups: men and women. Robinson was taught that anything different was wrong and unnatural.
"I really don't know what inspired me to be different than the rest of my family," Robinson said. "But for as long as I can remember I have been an ally for those of the LGBTQ community. I had multiple friends who were gay and transgender and I think that made the biggest difference in my way of thinking."
Robinson said the screening and discussion was a different kind of learning than she has received in her gender studies classes.
"It's one thing to talk about people who are transitioning from one gender to another," Robinson said. "And it's another to actually see them and watch their story. When we have discussions in my gender studies class there are never this many viewpoints, and I liked hearing all the different perspectives."
Clinton Hoffman came to the screening to support two of his friends who sat on the panel.
As the vice president of SAGA, Sexuality and Gender Alliance, the senior social work major was already well educated on the topic of gender.
Hoffman joined SAGA last year and has been continually learning about different gender expressions since.
"When I was in high school, I was only one of a couple gay people who were out and open about it," Hoffman said. "The school was pretty small and I just remember how everyone knew I was gay but no one wanted to talk about it. We weren't supposed to talk about it."
Hoffman said it is encouraging to see so many people want to learn more and become educated on the topic. He said it is better to see people who will admit they don't know but want to know, than people who pretend to talk about something they don't know anything about.
"The etiquette can be hard to learn, as well as the pronouns," Hoffman said. "But all of that becomes so much easier when you meet someone who is transgender or gender fluid or whatever else. You learn quickly, and it just becomes about being a good friend."