Staff Council carves Halloween tradition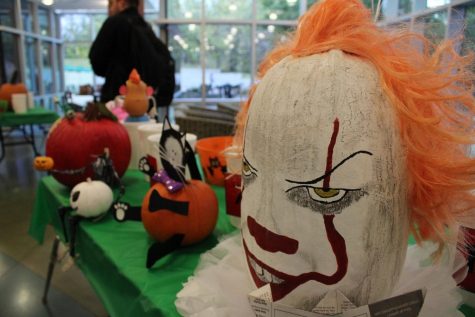 The carved grin on Lance Woods' pumpkin seemed to grow wider each time a student placed another vote in its favor.
The Operation Manager for Information Technology won first place in the pumpkin carving contest hosted by Staff Council Friday afternoon.  
Pumpkins were displayed in UC East due to weather. Anyone passing through was allowed to vote for their favorite designs.  The winners were announced Monday, and contestants picked up their prizes from the library.  
Woods' winning pumpkin had a long nose and a wide, silly grin. Its features were cream colored and the wide head was deep orange. Woods carved the pumpkin free-handed with clay sculpting loop tools, giving the pumpkin a layered look.
"I've always enjoyed carving pumpkins," Woods said. "I thought it would be fun to try and sculpt a pumpkin. I hadn't done one before so I thought I'd give it a shot."
This was Staff Council's second year hosting the contest, allowing both students and staff to enjoy the Halloween spirit. The contest offered two submission categories: carving and decorative. The top three contestants won baskets of candy.
Woods' runner-up was Southwest Indiana Pott College of Science, Engineering, and Education, which came in second place and the university Registrar's Office followed closely behind for third place for the carving category. In the decorative category,  the university Enrollment Management office came in first followed by the David L. Rice library for second and Terri Alvey, computer support technician for the David L. Rice library in third.
Heather Odom, Staff Council member, said the contest encouraged the USI community to have fun, even if they couldn't go home to carve a pumpkin this year.  There were no limits on entries allowing anyone on the campus to participate in the Halloween festivities.  
"It's something different to do," the senior administrative assistant said.  "It had been done in the past by the Staff Council and we picked it up again last year."  
In addition to the pumpkin carving event, Staff Council also puts on the Thanksgiving food drive and the giving tree, which are avenues for students to become more involved on campus and with the Evansville community.
Woods said he is already looking forward to next year.
"Halloween is my favorite holiday because it's centered around spooky stuff," Woods said. "I look forward to seeing next year's entries because the competition is a fun to show off your work."
Leave a Comment