'His effort was incredible'
Alex Stein remains focused, sets sights on leadership
October 26, 2017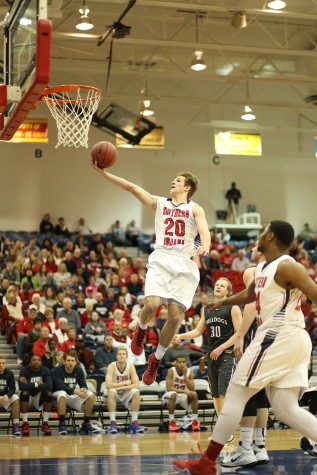 Alex Stein has the lost art.

The junior shooting guard can do something on the court other players can't or don't.

He can nail a consistent mid-range jumper.

"I don't even like talking about it because I want that to be lost by everybody else," USI men's coach Rodney Watson said. "He has what everyone else decided they don't want to do. It takes a lot of work. It's not sexy to make a pull-up jumper. It's really sexy to make a long three and it's sexy to get to the rim and dunk the ball."

Stein is entering his second season as captain of the men's basketball team and this year, unlike in years past, he's aiming to more outspoken.

"I want to be a vocal leader on and off the court," Stein said. "I want to help guys out in every situation, so guys know what they need to be doing. I've worked on this since the beginning of the summer."

Before this season, Stein saw himself as a 'lead-by-example' leader. He came to practice on time, lifted with the guys and did everything he needed to on the court, but he wants to add another dimension to his leadership.

There's something else that's different about this season, though he's collected several honors from his time at USI, including Great Lakes Valley Conference Freshman of the Year and First Team All-GLVC last year, he starts this year with more eyes on him than ever.

He's the first USI player since Jamar Smith in 2009-10 to receive preseason honorable mention All-American honors from Street & Smith's Basketball Magazine, and only the 10th USI player overall to receive the distinction.   

During his time in a USI uniform, he's started all 60 games the Screaming Eagles have played and his numbers increased from his first season to his second season.

As a freshman, he averaged 14.2 points, 3.2 rebounds, and 2.7 assists. For his sophomore campaign, he averaged 17.3 points, 3.5 rebounds, and 4.2 assists.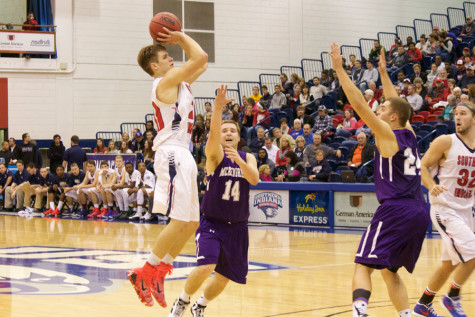 But this season, he's USI's top returning scorer, and unlike his two previous seasons, Jeril Taylor, Bobo Drummond and Cortez Macklin are no longer on the team to take attention off of him.

"As a junior, he has to be the focal point," Watson said. "He has to make the game easier for everyone else. I think that's probably the biggest challenge he faces."

With the recognition, he's garnering off the court and the attention he'll receive on the court, Stein has a lot of hype to live up to, but for someone that's been on coach's radar since before he was even in high school, the hype isn't exactly new.

His coach at Reitz, Michael Adams, said he knew the potential Stein had when he was in the 8th grade at Perry Heights and Watson said he first became aware of Stein when he was a middle schooler practicing his jump shot in the PAC on Court A while the men's team practiced on Court B.

Both Adams and Watson saw on paper Stein could turn into a special player, but it takes more than just looking the part.

"We talk about so many guys that are really talented and a lot of it comes down to how consistent they are with their effort and their approach," Adams said. "The one thing about Alex Stein is his effort was incredible. He brought it every single day. I think that's a great lesson for young kids."

At Reitz Stein was the captain of a team that went all the way to the Class 4A state championship game. On that team, he averaged 19.5 points, 6.0 rebounds and 4.5 assists per game as a senior.

Adams said Stein made huge strides from his junior to senior seasons at Reitz, so much so that the Reitz coach hardly recognized his shooting guard when the team came back to practice after the offseason.

Since Stein is the focal point of the team now, he's looking to make a similar stride heading into this season.

"I'm still working on my 3-point shot and being able to come off screens and shoot (the ball) with confidence," Stein said. "… I need to let the game come to me and not try to force anything."

The Panthers lost by one bucket, 91-90, in overtime to Homestead to miss out on taking a state championship back to Evansville. That's the most postseason success Stein has experienced. This season, the junior is looking to change that.

It's early, USI is only in its second week of practices as a team and the Screaming Eagles still have 30 regular season games to play and a conference tournament to play in before they even have a shot at making the NCAA Division II Tournament, but Stein has his eyes set on March.

"As a team, I'd like to win the conference tournament and definitely make a run at the NCAA Tournament as well," Stein said. "I think we have the team to do that this year. We have a lot of great pieces."