SAGA event combines religious, LGBTQ beliefs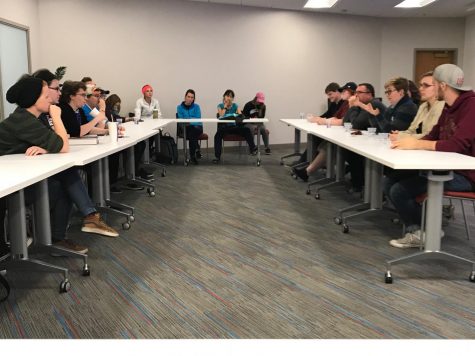 Landon Davis was one of the only people in the room who didn't follow a Christian based religion.
The freshman political science major was one the many students who attended the LGBTQ Spiritual Conversation Tuesday night. The event was an open panel discussion on how to combine religion and the LGBTQ community.
On one side of the room were seven panel discussion leaders, while the audience sat on the other. The panel was made up of individuals who had been interviewed and selected by Kayla Dick, senior psychology major and the leader of SAGA (Sexuality and Gender Alliance). The panel discussion leaders asked the audience questions, guided discussions and gave advice.
"I was asked to be on the panel because of my religious diversity. I am a member of the religion Wicca," Davis said.
Wicca is a religious cult of modern witchcraft, founded in England in the mid 20th century but claims its origins in pre-Christian pagan religions. Wiccans heavily believe in connections to nature and planet Earth.
During a discussion about religion, there were none of the expected tension or argumentative tones in the air. The room was full of the sharing of valid thoughts, opinions, and positive, open discussions.
There was a high level of diversity around the room, both religiously and sexually. Juliette Pape, a freshman interactive media design major identifies as both a Christian and pansexual.
The spiritual night brought new faces to SAGA events such as Pape, as well as familiar ones to talk about their views on how each other finds religion and spirituality in their lives.
"If you're very wary about being a part of a religion while being in this community then this is a great event for you to come out to," Pape said. "You get more information and see that most religions are actually very accepting which a lot of people don't know about. It was nice to see all the different perspectives from the panel members as well as the audience."
Leave a Comment