Game night connects employers, future employees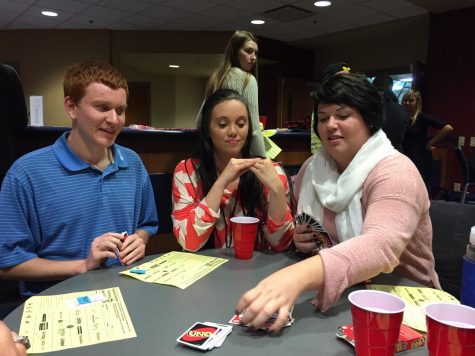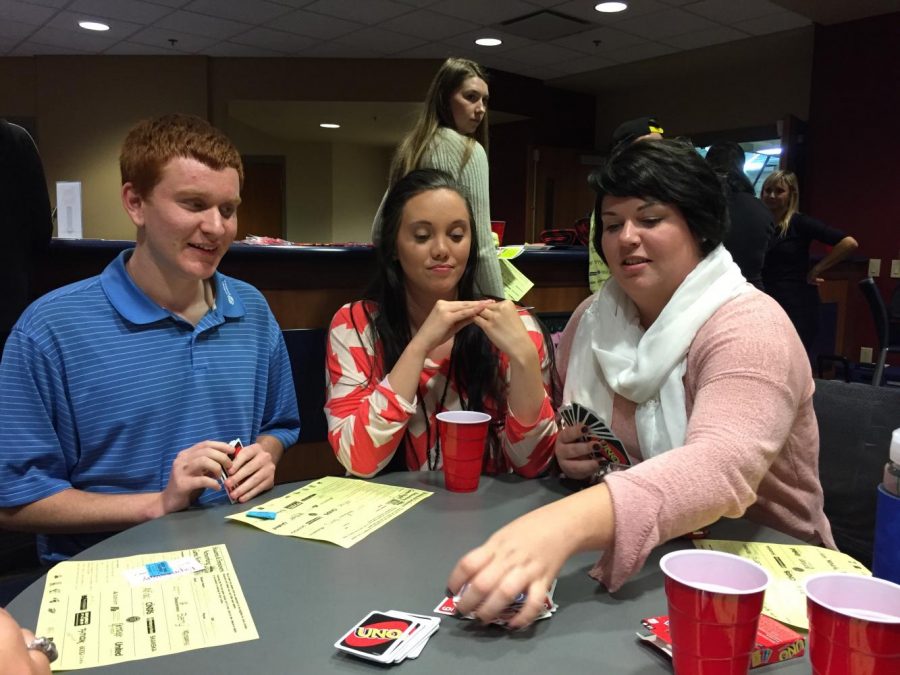 Hannah Holte laughed with her table as the endless game of Uno continued.  The group had been playing for what felt like an eternity. Finally,  it was Holte's turn and during her next pass placed her final yellow card on the pile claiming victory.  Everyone cheered as the game had finally been won.
Holte received a free blanket as a prize from Nicole Schwartz, a recruiter from T.J.Maxx. "It felt good to finally win," the senior elementary and special education major said. "I'm going to give the blanket to my cat because it will really like it."
Holte was one of many prize winners at last Wednesday's Game Night, a networking event bringing students to potential employers from 15 different companies. "It's good to build relationships and get your name out there a little bit," Holte said.  
The night was organized by the Career Service Ambassadors as a fun, interactive way for students to develop relationships and interact with employers.  Assistant Director of Career Services Julia Brauser enjoyed the informal networking.
"Networking is really just developing relationships with people," Brauser said.  "It's important for students to network and we thought we'd make it more casual."
The "casual" feel to the night erased the common tensions and nervousness seen at regular career fairs, making it easier for students to speak with the employers.  
"Kind of just the inclusiveness of the laid-back environment you really see what a person's like instead of the stressful interview and career fair sort of side of people," CSA's Jenny Mizikar said.  "And also, you really get to know them at a personal level so you can talk to them about whatever: the position, anything that's going on."  
Mizikar said having both the students and company representatives playing the games together changed the atmosphere of the event.  "We wanted to make it fun and an easy way for people to talk with employers," the senior management major said.  
Ryan Loehrlein felt the games showed students' personalities rather than just showing their resumes.  
"(Games) get people fired up and really involved in it.  So, we wanted something that was a little bit more out there," the junior mechanical engineer and business finance major said.  "And we also have ones on the smaller side where it's more of a one on one interaction with employers and students."
As an employer, Terrance Smith was looking for an opportunity to meet with USI students and show them that networking can be fun.  "This is the first time I've been out to a game night and I like it better than a regular career fair where you are sitting at the table," the Tropicana HR generalist said.  
Smith said the night helped students display qualities employers are looking for, such as communication, the ability to learn quickly, being able to get along with different people, and enthusiasm.  Smith said the loose environment allowed students to relax and be themselves.  "You aren't getting a made-up answer.  You're just getting to know the person," Smith said.
For students, the night was a good way to not only put their name out into there but also to practice approaching professionals and holding conversations with them. Mackenzie Eickhoff used the night to be outgoing and talk with the employers.  
"I was introducing myself to employers and figuring out who's who of the businesses," said Eickhoff.  The junior accounting and finance major said this was her first networking event.  "I thought it would be interesting since I'll be looking for some more internships within the next coming two years or so.  It's a good way to get to know them— to see the culture, whether it's easy to move up in the company, if they hire right away, and what internships look like."
The night was beneficial to both students and employers, putting both in more enjoyable environments.  "I think it's really awesome that the employers are also playing the game," Eickhoff said. "It makes you work with the employers along with a lot of teamwork going on."