Festival embraces world cultures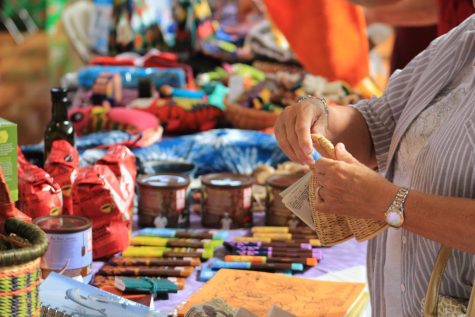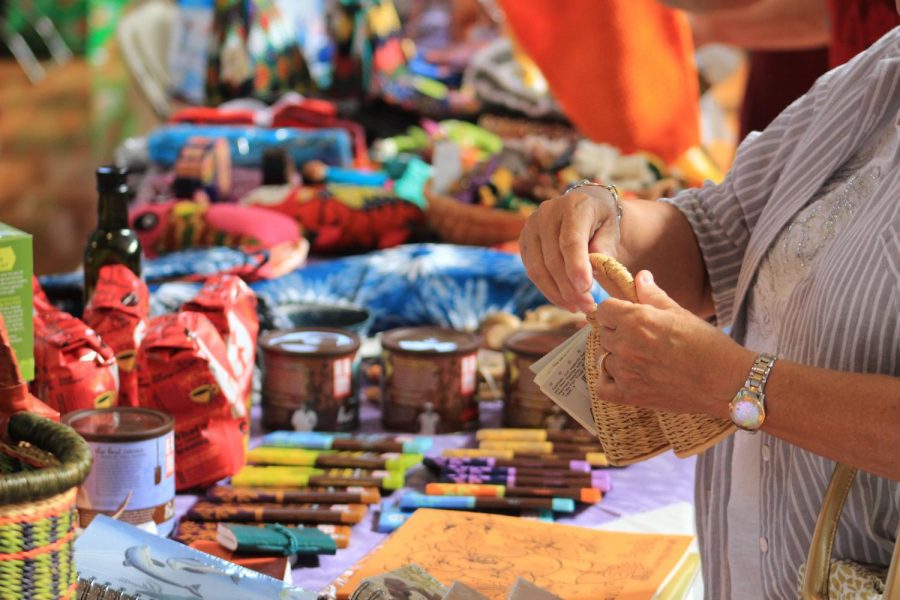 The Ribeyre Center was filled with the smell of food as people walked around the tables placed at every turn, admiring the display of decorative masks, trinkets, and bags. Women in bright colored shirts danced energetically to the music, celebrating their culture.
The annual Global Crossroads Festival was held Saturday in New Harmony, bringing USI students and community members together to learn and experience the diverse cultures represented by the university's students including Latin, Kenyan, Indian, Middle Eastern and Puerto Rican cultures.
Both the University and Historic New Harmony put on the event, with community members and 13 student groups displaying educational booths, preparing food and performing to help demonstrate their culture.
"We've really got a lot of students participating, learning and sharing where they are from and what their culture is," said Erin McCracken Merris, the university's community engagement manager. "I think that's really a great opportunity to learn more about USI."
Merris was the main leader in planning the event.
"One of the reasons we put on this event here is because New Harmony has such a rich history," Merris said. "It was founded to be a utopian community. So, it was founded on the principles of community and equality for everybody."
Merris said she wanted to highlight the diversity at USI.
"We wanted to honor those traditions that have been deep-rooted into this town by coordinating an event that will celebrate community and all the different cultures that make us this Southern Indiana region, as well as celebrate how USI's community is growing and focusing more globally," Merris said.
Merris said it is important for students to participate in programs that promote diversity.
"While our world seems very big it's also very small and we are all connected in a lot of different ways," Merris said.
Hope Peckenpaugh was making and selling food from her Chinese culture, including boba tea, a popular attraction at the festival.
"When I was younger I would never be able to afford this, but now I am able to afford it, so I want to share my love and my passion for Boba," the master's of health administration student said.
Peckenpaugh was sharing her table with her friend Rokas Cesnulevicius. Cesnulevicius prepared a Lithuanian dish, kibinai, which is chicken, onions and seasonings wrapped in dough.
"It's one of my country's traditional dishes," the health administration graduate student said.
Cesnulevicius said cultural events like this help the world understand everyone is the same and allows people to take pride in their ancestry.
"The United States is a huge melting pot, people came from all around the world back a couple hundred years ago," Cesnulevicius said. "It's important to learn about your ancestry. It's not only important it's interesting to know where we all came from."
Maya Doss attended the festival, drinking Peckenpaugh's boba tea and getting a henna tattoo drawn on her hand. The freshman studio art major was encouraged by friends to see different aspects of Hispanic and African cultures and more, all without leaving the American culture behind.
"Football and hamburgers are cool but also you get to see people in their very extravagant outfits and the music that they feel so strongly about and taste different foods and different ways people create art in different countries," Doss said.
Doss is half Cuban, so she grew up speaking Spanish, practicing Cuban dances and eating Cuban foods. She said it was refreshing for her to be around other cultures.
"When you come to places like this you see more of a vibrant culture that is more easily shared and I think that people should always embrace that," Doss said. "It's a way to open your eyes."
Doss said she gained perspective after purchasing a bracelet made of spun paper that helps support girls' education.
"People elsewhere are not necessarily given everything that they need and so they are doing their best to do everything they can to make a future for themselves. The fact that even in America where I am extremely privileged I'm able to help them get towards that goal," Doss said. "The world's so big. It helps (people) be more open-minded and try new things and to grow as a community."