Stein receives preseason honor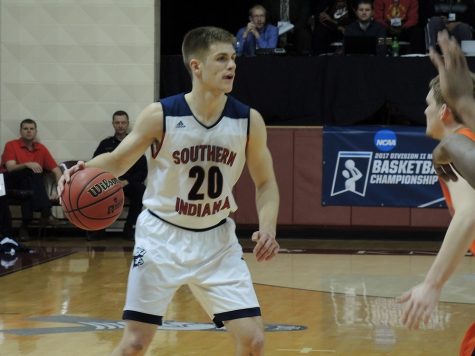 Alex Stein said he spends between 28 and 35 hours a week working on basketball, and the time in the gym has paid off. Stein has been named preseason honorable mention All-American for the 2017-18 season in Street & Smith's basketball magazine, which hit newsstands recently.

Stein is the first USI player to receive preseason honors since Jamar Smith in the 2009-10 season and only the 10th Screaming Eagle overall.

"It's something I didn't expect," the junior guard said. "It's something I've worked hard for."

There are 29 Division II players total that receive preseason honors from Street & Smith's magazine. It can be broken down into three categories. Five players represent both the first and second team All-Americans and 19 players comprise the honorable mentions.

According to the NCAA, there are 309 schools in Division II. If each school has a basketball team with 12 players on the active roster, that means there are at least 3,708 Division II men's basketball players.

This means the 29 players to receive recognition from Street & Smith's magazine represent less than one percent of the Division II players for the 2017-18 season (.0078).

Stein said he tries not to think about the lofty expectations that follow being named to a preseason All-American list and, instead, he just focuses on enjoying his time on the court.

"I don't really think about it too much," he said. "I love the game, and it's a lot of fun playing with guys (I've) been around all summer long."

USI head coach Rodney Watson said he's not at all surprised to see Stein's name on a preseason All-American list.

"He is as hard of a worker as I've ever seen, and the thing that's remarkable about Alex is he has a professional mindset," he said. "Every offseason he has improved certain phases of his game."

Last season as a sophomore, Stein started all 30 games for the Screaming Eagles. He averaged 17.3 points, 3.5 rebounds and 4.2 assists a game. He finished in top ten of the Great Lakes Valley Conference in all scoring (fourth) and assists (eighth).

His points, rebounds and assists per game all improved from his freshman to sophomore campaigns (14.2 points, 3.2 rebounds and 2.7 assists in 30 games). His free throw percentage went up as well, which was 90.4 percent last season compared to his freshman season of 81.7 percent.

All of these improvements happened while he averaged fewer minutes. Stein went from averaging 32.5 minutes per game his freshman year to 31.1 his sophomore year.

Watson said as much as Stein has improved since he first came to USI in 2015, he wouldn't be shocked to see him playing professionally one day.

"It will absolutely not surprise me what league he ends up in," he said. "I'm not going to hang the NBA stuff on him, but he ran a 4:46 mile and we don't train for the mile. … It's the best mile time I've seen in my 32 years of coaching, and I've been fortunate to be around some really incredible athletes. It's not the time of 4:46, it's just that it's better than anyone I've ever seen before."

The Street & Smith's preseason honorable mention All-American is not the first time Stein has been honored. During his sophomore season, he was named first-team All-GLVC. He received GLVC Player of the Week honors once. He was also named to the Small College Basketball Hall of Fame Classic All-Tournament team.

On top of all of those, for his work in the classroom, he earned College Sports Information Directors of America (CoSIDA) Academic All-District and Academic All-GLVC honors.