'American Vandal': Fantastic, ficitonal true crime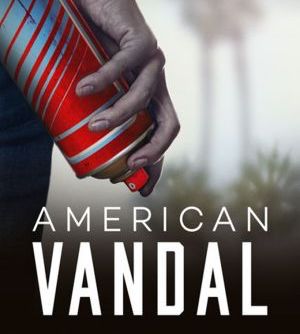 Ever wish there was a series that mocked Netflix's runaway hit true crime series "Making a Murderer?"
Neither did I, but holy crap is it awesome.
"American Vandal" is a Netflix-exclusive mockumentary series produced by Funny or Die that directly apes the cinematography and narrative style of "Making a Murderer."
Instead of a journalist attempting to defend an alleged murderer, "American Vandal" is presented by two high school sophomores attempting to prove known senior prankster Dylan Maxwell (Jimmy Tatro) didn't spray-paint giant red penises on 27 cars in the faculty parking lot.
With a borrowed camera and a passion for the truth, Peter Maldonado (Tyler Alvarez) and Sam Ecklund (Griffin Gluck) set out to find out who did the dicks. Along the way they'll tear apart the school's informal trial to suspend Dylan, calling key witnesses into question and examining evidence from every angle.
Awkward nerd Alex Trimboli says he saw Dylan painting the cars, but he also says he got to third base with school superstar Sara Pearson at camp. If he lied about a handjob, could he be lying about Dylan?
The show is incredibly well-edited with a fast pace and attention to minute detail that puts some actual true-crime to shame. Of course, being fiction, the show can do whatever it pleases, but the lengths to which Maldonado goes to find the truth creates an addictive "just one more" mentality that had me watching the entire eight-episode season in two sittings.
One particular stand-out scene, almost cool enough to justify the show on its own merit, is a party at which all of the people at school were invited except Peter and Sam. Several things happen at the party that directly relate to the vandalism several days later, so Peter constructs a working timeline of the evening by compiling every video of the party posted to Instagram, Facebook and Snapchat.
Luckily the series has been picked up for a second season, so hopefully we don't have to wait too long to continue the investigations of Maldonado. I look forward to it more than most Netflix series continuations.
(5 / 5)