Professor speaks about diversity, culture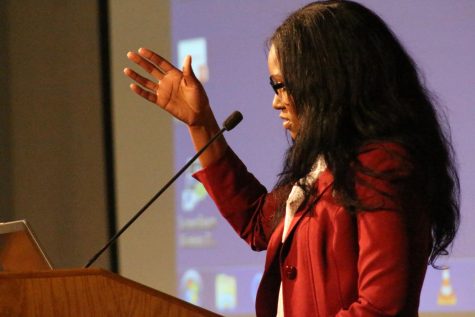 After dinner was served, the room applauded as the president of the Black Student Union senior elementary education major Alexa Humphrey introduced their keynote speaker for the evening, Xavia Harrington-Chate.
The Multicultural Center chose Harrington-Chate based off of her past lectures covering topics like students living in poverty and first-generation college students.  "I was super excited to be able to talk directly to students," Harrington-Chate said.
Harrington-Chate has been teaching for eight years and is currently attending Bellarmine University in Louisville, Kentucky.  She teaches courses on technical writing, composition, rhetoric I & II, racism in America and gender studies at USI, and she especially enjoys teaching social justice.
"Even when I teach a writing class, it's always about the student learning about themselves more.  It's always about the student learning more about the world," Harrington-Chate said.  "I always try to infuse social justice in higher education and about uplifting themselves, but also trying to remind professor what it's like being a student.  I think sometimes we assume things that we shouldn't."
Harrington-Chate's speech, titled "The Urgency of Now," focused on the circumstances students experience in their past and use as a crutch rather than motivation to push themselves forward.
"I wanted to talk to students about the things that sometimes they consider to be pitfalls," Harrington-Chate said.  Her speech covered two of her own personal pitfalls or negative "then moments" from middle school and college years.
Harrington-Chate described "then moments" as experiences of her past, though they aren't experiences of her now.  
"They are life's lesser moments that have helped to make you focus, to make you determined, to drive you," she said. "I've heard (students) question themselves and I just wanted to let them know that we all in some way have had those moments that we don't consider to be the most positive, but you use those to motivate you."
She hoped students would walk away feeling that their past doesn't define their present and know that the people around them, professors included, do understand what they are going through.  
"I wanted to reassure them that everyone has some sort of moment that defines who they are, but at the end of the day how you use those moments is what makes them different."
As the speech ended, the room erupted into applause and a standing ovation.  
Darius Payne was thoroughly impressed.  
"It was good and motivational.  Even if it's the worst thing that's been happening just keep going and don't let it hold you back," the junior advertising major said.
Sessions were held after Harrington-Chate's speech with three sessions per block divided by men and women, equaling a total of twelve sessions.  
"Some of the sessions we had this year talk about how to dress professionally," Assistant Director for the Multicultural Center D'Angelo Taylor said. "Some lack that knowledge in the black and Latino community so we want to address these types of issues."  
Other sessions covered health, Greek life and other issues.
Ta'Meia Burleigh was truly excited about the different sessions she was scheduled for.  "My first session talks about different things you can do as an independent woman here and ways you can make an easier transition into college," the freshman undecided major said.  "I just thought that information would be really cool."
Burleigh is a part of the Multicultural Center,  which hosted the event. She said the program brings awareness to the different cultures at USI and a chance to interact with different cultures and people.  
"(The program) is a really open environment.  Anyone can go there.  You can get help for anything," Burleigh said.  "It's just a really nice place to go and meet different people."  
The summit addressed topics relevant to people of African American and Latino heritage.  
Taylor said the event is intended to make students aware of certain social issues.  
"Each year we have the Black and Brown Summit to bring to light different issues that we may have as far as the black and Latino cultures here at the University of Southern Indiana," he said.
Students ended the evening with an interactive panel discussion and a new perspective.  
Demontrae Lapsley, a sophomore studying exercise science and pre-physical therapy, said Harrington-Chate's lesson was something he'd remember for the rest of the school year.  
"Her college years were powerful. I felt it was the emphasis of the whole speech," Lapsley said. "Make sure you keep yourself up all the time."