"Love Yourself: Her" Full of Bops and the Concept of Self-Love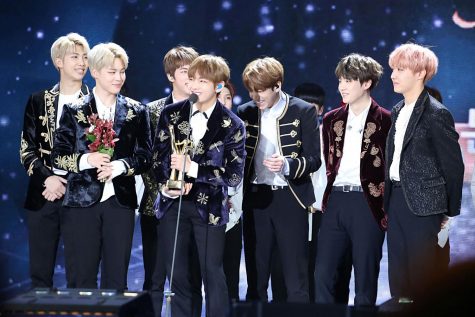 บีทีเอส (กลุ่มนักร้อง)
K-Pop group BTS has once again produced a wonderful album expressing the importance of real-world issues and self-discovery.
On the brand new album "Love Yourself: Her," members Jin, Suga, J-Hope, Rap Monster, Jimin, V, and Jungkook bring soothing and heartfelt songs that are the equivalent of chocolate and the view of stars; sweet and enticing. With many uplifting, peaceful melodies and deep lyrics consisting of self-love crooned by the silvery voices of BTS, "Love Yourself: Her" is quite a lovely, spirited album.
"Intro: Serendipity," a beautiful ballad, serenades ears with the angelic voice of Jimin and lyrics speaking of sweet love and self-discovery, while "Pied Piper" is a more hip-hop based beat with the boys endearingly teasing their fans and speaking of the affection they return to all the people who love and support them.
The title track "DNA" is definitely a different sound for the boys compared to their previous albums, but as expected, they bring something new and exceptional while still retaining the element that makes them BTS. "DNA" is comprised of whistles, acoustics and electronic beats that cast listeners under a spell, and the music video is just as entrancing with bright aesthetics, synchronized dancing familiar to the group, and of course the visually pleasing outfits and boys themselves.
The album also contains a head-banger titled "MIC Drop" comprised of all the boys in the group throwing out how hard work can pay off and make dreams a reality.
BTS's "Love Yourself: Her" is an album that promotes positivity and love, something that is well needed in a time of so much negativity and hatred.
With its honey-coated tunes and heartfelt vocals, "Love Yourself: Her"is the latest addition to BTS's worldwide influential music, and perhaps a way for people to learn how to love themselves and others.
(5 / 5)
Leave a Comment