Rhythm fest rocks campus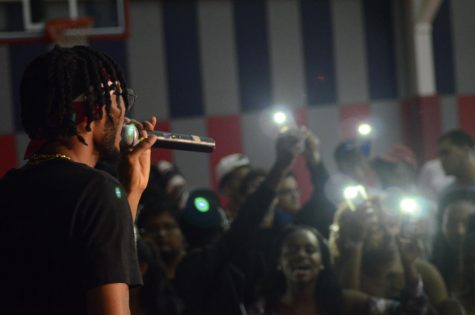 Brittany Smith
Students of every age, gender, and ethnicity came together to sing and rap the lyrics of their favorite songs and enjoy dancing with one another Friday evening at the RFWC. 
Julia Ennis was excited for the dancing and fun night that would take place in the coming hours but mostly enjoyed being at the event with her friends. The freshman communications major was excited to go out and experience more of what the organizations of USI had to offer. It was nearly impossible for her to miss out on the chance to spend time with her friends and listen to the artists.
"The live music makes it possible for people from different cultures to come together and enjoy themselves," Ennis said.
The Multicultural Center sponsored Rhythm Fest, a night of music and dancing.  
The Multicultural Center hired three different artists to expose USI students to music from various cultures. This was only the second year the event has taken place, but it has already developed a reputation.
Kyra Roberts had gone to the event last year and enjoyed it, so much she decided to come back this year.
"It's a chance to meet new friends," the sophomore theatre major said. "And there's free wings."
Students were able to relax and safely enjoy a party with their friends while also experiencing cultures different from their own.
Jacob Murphy decided to attend in hopes of hearing interesting music.
The sophomore undecided major experienced Rhythm Fest for the first time Friday night, but said the music was most definitely his favorite part.
"It's just exciting to see so many people coming together," Murphy said. "It's nice to just enjoy the music and the environment it creates."
Leave a Comment