Love of the game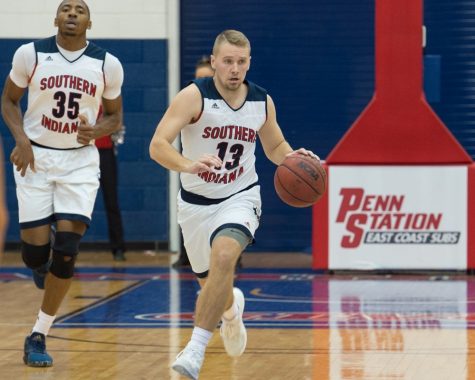 Kyle Aiton still loves basketball, even though he left the USI men's team with a year of eligibility still on the table. However, he doesn't love everything that goes into being a college basketball player.
From the offseason workouts to the early morning and afternoon shootarounds sandwiched around class, those are aspects of the game Aiton doesn't miss, and that's why he decided to leave the team in May.
"I didn't love it as much as I used to, and I told myself a long time ago that that's what it came down to," he said. "You have to love playing a college sport because it's like having a job."
Aiton spent the past four years playing at the collegiate level before hanging it up. After graduating from Castle High School in 2013, his college basketball career started at Division III Wabash College before he transferred to USI after his sophomore year.
At Wabash, he put together two successful seasons. In the 50 games he played for the Little Giants, he started 45 of them and averaged 12.6 points per game.
He was named North Coast Athletic Conference (NCAC) Newcomer of the Year in 2014, but like he said, "some stuff came up and I didn't think it was the right place for me anymore."
After the spring semester of 2015, Aiton started looking for another college to play basketball for. A friend of his, Clinton Happe, who was serving as a graduate assistant for the Screaming Eagles, directed him to Rodney Watson, head coach of the USI men's basketball team.
When Aiton first walked into Watson's office, the team was out of scholarships, but that didn't deter him from playing for USI. He was used to playing without a scholarship.
He had already played two seasons of college basketball without one.
"At that time I had no scholarship money available, but I said 'if you want to come to school here, we'd be glad to have you,'" Watson said.
Aiton spent a year watching from the sideline as he redshirted and then finally, last season, he was able to suit up in the number 13 jersey for the Screaming Eagles.
Things didn't go quite as well for him as they had at Wabash.
In the 23 games he played in, Aiton shot 50 percent (29-of-58) from beyond the arc, but he only averaged seven minutes playing time and 4.5 points per game.
Watson said the few minutes of playing time Aiton received had little to do with talent and more to do with how much of a logjam at guard the Screaming Eagles had.
The four primary guards on last season's team: Jeril Taylor, Bobo Drummond, Alex Stein and Cortez Macklin averaged a combined 110 minutes per game, and since USI ran a three guard set, that only left 10 minutes for Aiton and Marcellous Washington, the other two guards on the team to play.
Even though Aiton didn't play much for USI, Watson said his loss will be felt other ways because he was invaluable to the team.
"When I watch film, I watch the end of the bench to see who's standing up to cheer when somebody makes a play or who's coming off the bench when there's a timeout and who's dragging, those guys are what we call 'not cut in,'" he said. "Kyle was always cut in. If anything, I think he was in this for all of the right reasons."
One of Aiton's closest friends from the USI men's team is Marcellous Washington. The two have remained close even without playing on the same team.
That's one of the reasons why Washington said he understands Aiton's decision to leave the team because he's doing what's best for him.
Washington, who's now a senior at USI, has known Aiton since he was a junior in high school when the two played on the same AAU team. Over the course of last season, any time Washington was feeling a lack of confidence, Aiton was always there to help him in any way he could.
"It's going to be different (without Aiton on the team), but if he's still pursuing what he needs to, to better himself in life, then I'm all for it," Washington said.
One of the most important things Aiton did for the team was keeping other players engaged, no matter what happened on the court, Washington said.
"If you had played bad, if you had turned the ball over or missed shots, if you missed the defensive assignment, he was always there to encourage you and pick you up no matter what," he said. "I think that's something you don't see on every team, especially coming from a player who didn't get to play as much as they wanted to. Him always being there was key to our team."
At USI, Aiton's numbers were far from what he put up at Wabash, but he wasn't asked to put up big numbers. He was asked to contribute to the team in other ways.
"I did everything the team needed me to do," Aiton said. "Sometimes I didn't play, but I was like, 'Don't sulk, put your big boy pants on and help the team out with whatever you can.'"
There's a new number 13 for the Screaming Eagles this season, but that's no longer a part of Aiton's life.
Since he's no longer a student-athlete, he's just Kyle, a senior accounting major who graduates in May, and that's fine with him.