Students demand parking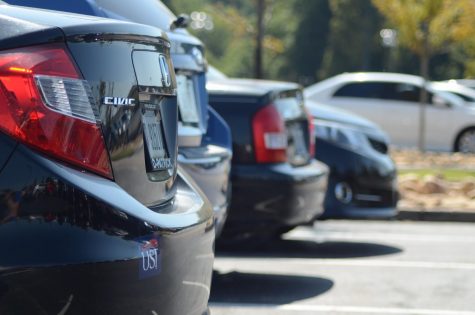 Tian Moore-Denk said she usually arrives on campus at least 30 minutes early just to find a parking spot.
"One thing that I don't like is that they have a whole section of the parking lot blocked off for the construction," The freshman sociology major said. "If you don't come between 7 and 10, you're probably not going to get a spot."
Miles Mann, assistant director of facilities, operations and planning, said the last row in parking lot C that is unavailable due to the construction materials and vehicles that are stationed there will not be available for public use until the completion of phase II of the Physical Activities Center, which is not expected to be completed until October of 2020.
Mann said no other spaces will be affected by the construction of the PAC or the Fuquay Welcome Center.
Moore-Denk posted in the USI class of 2020 page a photo of a truck double parked in one of the lots.
Other students have posted complaints in the class pages, some even warning others not to even try going to campus in the morning.
According to information collected for the university's next master plan, the university currently has 6,726 total parking spaces on campus. Enrollment for last year was 9,025 undergraduate and graduate students.
At the fall faculty meeting at the beginning of the year as well as the most recent Board of Trustees meeting, Provost Ron Rochon and vice president for enrollment Andrew Wright said they expect the numbers for this year to be even higher.
Students who are not exclusively Distance Education students are required to pay a transportation/parking fee that is determined by the number of credit hours a student is enrolled at the university, which ranges from $78 to $130 per semester.
The fee funds the upkeep of campus roadways, parking lots, pedestrian sidewalks and paths, and the on-campus shuttle bus service according to the Public Safety website. Resident parking permit costs are included in the fee.
Moore-Denk said she believes the problem is only going to get worse in the future.
"I feel like they are not as prepared as they should be with the amount of students they have," she said. "I don't know if building the Welcome Center is going to help, but I feel like they should put more money into expanding parking lots and definitely not blocking off a section of parking for construction."
Leave a Comment