Paint War adds splash of color to campus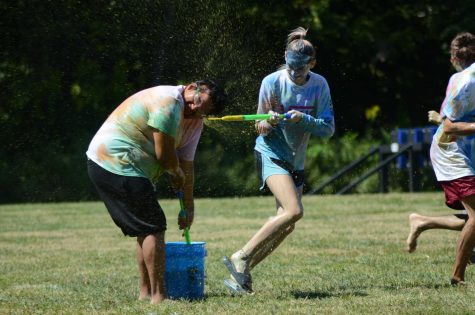 Maddie Seib convinced her friends to join her for a colorful Sunday afternoon.  
The junior nursing major arrived with her friends in white shirts ready for battle, and by the time they left, each was covered in an armament of colors.
Firing paint from water guns and hitting everyone in sight, students went through over three gallons of paint during the two-hour paint war. Hitting both friend and stranger, every student was ducking for cover while firing aimlessly into the air. As the paint dried, students wondered if the stains would be gone before classes Monday.
Seib has been to every paint war since her freshman year. Two years later she still finds the event fun.
"It's great just coming out here and having fun with other people," Sieb said. "The paint war is something you don't normally do; it's different."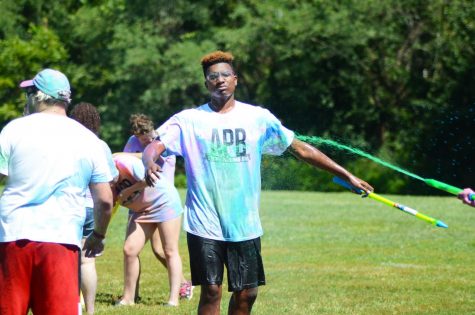 Sunday's paint war was one of many events hosted by the Activities Programming Board.  
"We are the group that puts on the events around campus that are free to students," said junior member Megan Kendirck.  "We put on the live karaoke during the Welcome Week, cookie canvases and the comedian magician from a few weeks ago."  
This was Kendrick's second year helping host the annual paint war.
"Last year it was a big hit so we decided to do it again," Kendirck said."The goal is to get people involved on campus, meeting new people and having fun.  A lot of people really like it."
APB will try to host another paint war next semester in the spring for those students who couldn't attend.  
Within the first hour, over thirty students were participating in the messy battle drenching various colors all over the rugby field.  
Junior biochemistry major Madison Everett said the rugby field was a new location for the paint war.
"We usually have it by the water tower, but it was too far out and brought less people," Everett said.
This meant longer trips for more water, but the extra labor was worth it as more and more students came to join in the fun.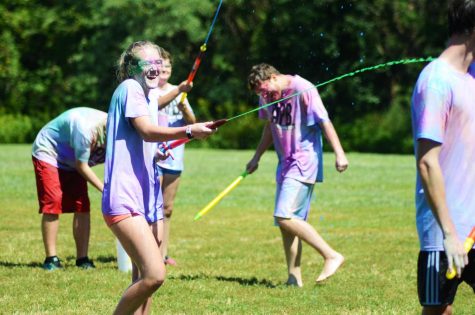 Freshmen friends psychology major Blakely Carnine and undecided Nicole Robinson were not sure what to expect from the event as they walked to the field.  
"I was expecting water balloons," said Carnine.  "But I like the guns much better."  The two were covered in purple paint and Carnine admitted her hair was now dyed green in places.
"We just wanted to do stuff out on campus, and I've never done anything like this," Robinson said.  Robinson brought her phone to the event hoping for some amazing photos.  "The case I have is water proof so (the phone) has been in the ocean, creeks, the sink.  Now here."  Robinson was seen darting across the field, snapping shots as students were hit with paint and taking slow motion videos; her phone case taking many blows of purple and green paint.
Freshman undecided major Emily Bacon tried to wash the yellow and green from her face with no success, but Bacon still enjoyed the day.  
"This was the first (APB) event we've been to, but definitely will try more after being in this one," Bacon said.  Bacon spent the afternoon soaking her fellow freshman, business management major Drew Horn.  Both left drenched in blues and greens.  Luckily the two came prepared with trash bags for the ride home. "It's been a lot of fun." Bacon said. "I'm for sure coming next year."
Leave a Comment