AHS draws scares from 2016 election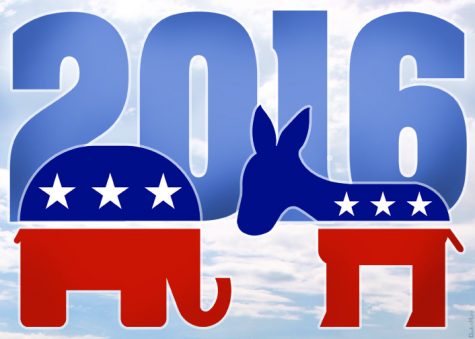 Throughout President Donald Trump's campaign, the Internet made jokes about his candidacy with "American Horror Story: Trump" jokes.
The creators of "AHS: Cult" seemed to take those jokes and translate them into a pretty terrifying premiere to its seventh season Tuesday.
The episode begins with real clips and voiceovers from Trump and opponent Hillary Clinton, feeling more like a newsreel than an opening to a horror show.
We're introduced to two prominent, starkly different characters: Ally (Sarah Paulson), a woman suffering from paranoia who is devastated by Trump's victory, and Kai (Evan Peters), a Mexican-hating, intensely aggressive Trump supporter–going as far as humping the television screen on election night.
Oh, and there are killer clowns who have sex on watermelons. Is it even AHS if there's not some sort of horrifying sex appeal?
By implementing politics into the show, some of the most intensely conflicting in history, at that, AHS creators Ryan Murphy and Brad Falchuk were bold. They took jabs at both the left and the right.
Kai pulverizes Cheeto puffs and rubs it on his face and hands, whispering Trump-isms like "it's gonna be huge." Winter (Billie Lourd) asks, "Why didn't CNN put a trigger warning before they announced the results?" Characters criticize Ally for voting for third-party candidate Jill Stein.
While this definitely proved scary simply because it's pretty close to American reality, I don't believe we need a rehash of the election this entire season.
If AHS decides to closely follow an election-centered plotline for the rest of Cult, seeing the candidate drama rehashed will grow weary. The clown bits (Twisty from Season 4 makes a return) were genuinely terrifying, and I have hope they'll explore more of that as the series pans out.
As an anthology series, AHS must create new storylines and settings every season to keep viewers on their toes. With this premise, "AHS: Cult" has potential.
It, so far, has utilized its familiar actors well—Peters quite convincingly portrays an absolutely scary version of a Trump supporter, making fangirls question whether they still find him attractive with Cheeto dust all over his face.
Paulson seems to be playing a similar character to her other roles– crying a lot and nobody believing her– yet she is still as captivating on screen as ever.
"American Horror Story" fell flat with last season, "Roanoke." Comparing last season's premiere to Cult's, this season could get much, much scarier.
Just the way we AHS fans like it.