Master Plan maps future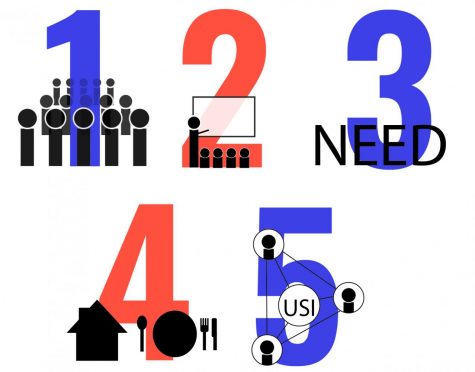 In 10 years, the university will increase enrollment by over 5,000, take the engineering department out of the business building and build a second entrance and exit to campus.
At least that is the plan.
Last Wednesday, outside design firm Smithgroupjjr sent Campus Planners Doug Kozma and Lauren Leighty to present and receive feedback for the university's next master plan.
The university hired the firm to construct the next master plan, a 10-year outlook on the university's facilities, academic programs and enrollment.
"A master plan is a flexible decision-making tool," Kozma said. "It has to be opportunistic but it has to be realistic. I like to say that a master plan is not a mandate but it is an opportunity based document."
The firm began work on the master plan in January and Kozma said it will end up being a 12-month project.
The last master plan was designed in 2006. The goals for that master plan included improving the entrance onto campus and identifying locations for new facilities
Kozma said he thinks the master plan should be a transparent document that is of the people and for the people.
"It has to be built from the ground up, it can't come from the top down," he said. "Frankly some of the best ideas for long range planning come from the users themselves."
One portion of the plan focused on expanding parking on campus.
Kozma said he uses three measurables when looking at parking: quantity, type and location.
"I think at USI one of the challenges will be not the quantity, but the location," he said. "As we look forward 10 years and we do add programs and students, one of the larger challenges that the master plan will have to solve is where do we relocate parking and in what quantity."
There are currently 6,726 parking spaces on campus and 72 percent of students are commuters.
Kozma said funding for any additional buildings in the plan are on his mind as they are working on the plan
"It's a wonderful balancing act that we will be doing as part of the master plan for the next decade," he said. "We can dream too big and not be able to afford it, but I think we don't want to be in that position."
The content of the master plan can be boiled down to five topics, said Kozma: enrollment, utilization of space, campus needs, student housing and dining and character of the campus.
Kozma said the outcome they are aiming for is to create a prioritized vision of the future of the university.
"We have had an opportunity to work with lots of clients all across the United States of America and we have found this particular campus to have a special spot in our heart," he said. "The people here, the culture has endeared our team to work harder to be more innovative. There's something very special at USI and we are delighted to be a part of it."
Sophomore political science major Trevion McFarland said the master plan was set up very strategically but is not in favor of all the ideas.
"I think the lower level classrooms of the library are utilized more often than what they think," he said. "When you get to finals season, those lower level spaces are utilized pretty effectively just because the library is open until 2 a.m."
McFarland said he believes transparency is the most important aspect of the plan and student input is valuable
"If you look at our generation, you look at 10 years behind us and you look at 10 years in front of us, it's so much of a difference," he said. "When we leave USI and the class of 2025 comes in here, they are going to think differently than what we think."
McFarland said they need to think logically and analytically to accomplish their goal and he is not a fan of the university increasing enrollment past 15,000.
"USI holds a genuine type of feel, type of setting that you don't feel on other campuses," he said. "I don't think we should expand our numbers too big because the more people come, the more tuition continues to rise, the more issues you have with parking or transparency."
Leave a Comment