'A force to contend with'
Student chosen to represent Evansville through Civil Rights Commission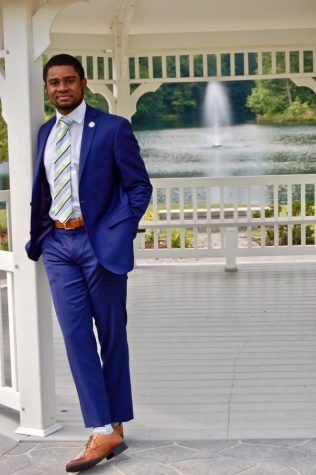 Trevion McFarland pushed up his glasses, which had fallen partway down his nose. Wearing a tie and suit jacket, McFarland stood in stark comparison to the athletic shorts and rumpled probably-dirty-but-smells-okay t-shirts of his peers.
The sophomore political science major may have passed for a businessman, maybe an instructor, but he was just another university student.
Bending his head closer to his computer screen, McFarland's hands tapped quickly. Reflections of a document, riddled with words, danced in the corners of his glasses. It was just another day for McFarland.
It was another day to make a difference in the lives of his peers and community.
Stephanie Draper-Moore, a member of the Indiana Commission for Women, recommended McFarland for the Indiana Civil Rights Commission advisory board.
The advisory board is made up of 12 college students across Indiana, chosen based on their scholarship, excellence, leadership and passion for civil rights.  
"(McFarland) was selected through a statewide process to represent Evansville," Draper-Moore said. "He is the first student to represent this area. He did great in his interview, and I couldn't think of a better student to have been chosen."
Draper-Moore said she has known McFarland for a little over a year.
"I knew (McFarland) would be a good pick for the advisory board when I was helping him with a philosophy project," Draper-Moore said. "I had the opportunity to figure out his thinking process. I could tell he was hungry to learn and to learn as much as possible. He is already intelligent but he doesn't think he knows everything."
Draper-Moore said she and McFarland have a special mentorship relationship.
"Last year (McFarland) shadowed me, and he told me very bluntly that I was going to be his mentor," Draper-Moore said. "I think he saw the similarities we shared and knew I would be able to relate to him. I was always the adult in my friend group, the one more interested in the news than cartoons, and I think (McFarland) is that same way."
McFarland said he did not think he would be chosen for the advisory board.
Despite his involvement as Student Government Association administrative vice president of university affairs, treasurer for Turning Point USA, Political Science Society member, Student Alumni Association member and his involvement in 3 different committees on campus, McFarland assumed there were applicants more qualified.
"I think it helped I am educated with what is going on in Evansville," McFarland said. "So much of the position is learning how to reach your area. We go into high schools and into the community and teach them how to be civil, what their rights are and the importance of equality."
McFarland said he has never personally experienced racism.
"The position has forced me to be more open-minded," McFarland said. "I have been encouraged to look outside my own experiences and see how others experience racism differently than I have. I know others still experience extreme hate and violence because of the color of their skin, and we need to stand together as a nation to change the extremist hatred on both sides."  
McFarland said the violence in Charlottesville has highlighted the issue of racism.
"There have always been hate groups and extremist groups," McFarland said. "But what happened in Charlottesville has been the main topic of interest in the advisory board. I don't think it is going to be easy to change an attitude so deeply embedded."
McFarland said every American should have the same goal.
"None of us are fully American," McFarland said. "We have all immigrated from somewhere. We should want to improve the quality of life for everyone, not just for a select group of people. A threat to justice anywhere is a threat to justice everywhere."
Courtney Johnson, founder of the non-profit organization Young and Established, said he first met McFarland when he came to volunteer for the Dust Bowl.
"(McFarland) came on board and helped out when he didn't have to," Johnson said. "I think that says a lot about a person when they are willing to set time aside from a busy schedule and volunteer for the community."
Johnson said the Civil Rights Commission Advisory Board is a good fit for McFarland.
"(McFarland) is a well rounded person," Johnson said. "He wants to make a change in the community and that's why we have connected so well. The whole point of my non-profit is to make a difference and that's exactly what he wants to do."
Johnson said McFarland will do great things.
"He wants to leave a mark," Johnson said. "He is going to inspire these young adults to make a difference, not only for themselves, but for others as well. I hope he continues to invest in Evansville; we need more guys like him in the city."
Draper-Moore said she could not be more proud of McFarland.
"He is going to make such an impact in the Evansville community and on the USI student body," Draper-Moore said. "He will be a force to contend with in the years to come."
Leave a Comment