Alumnus joins as assistant coach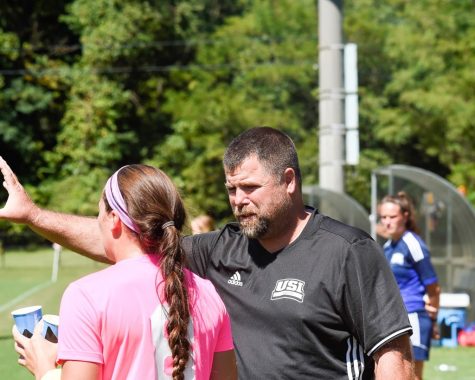 Eric Schoenstein said new assistant coach Larry Nohalty brings over twenty years of coaching experience to the women's soccer coaching staff, but perhaps the most important aspect he adds is stability.
After last season's assistant coach, Taylor Stevens, accepted a job at a Division I school, Schoenstein said he expects Nohalty to stay and help the women's soccer team for the next ten or fifteen years.
"I knew I had someone that was going to be around for multiple years, and I wouldn't have to go through a college search every two-to-three years," Schoenstein, head coach of the women's soccer team, said.
Nohalty isn't new to USI or the women's soccer team either. He played goalkeeper for the men's team from 1990-94, and he's spent the past two and half years coaching the goalkeepers for the Lady Screaming Eagles.
His title and responsibilities within the program may have changed, since he's now the assistant soccer coach and will no longer be working solely with the goalkeepers, but he said he hopes the team looks at him the same.
"I want them to know that they can rely on me," he said. "If they need something, I want them to know they can come to me and I'll get it done."
The first thing he wants to focus on now that he's been named assistant head coach is "getting to work."
He hasn't been able to spend as much time with the team as he'd like since he's been finishing up all of the paperwork that's required for his new job, but since he's completed that aspect of the job, he can spend time where he enjoys being the most: the soccer field.
One of the biggest reasons Nohalty wanted the USI job is because of his relationship with Schoenstein.
Not only were they roommates during Nohalty's freshmen year at USI, he was an assistant coach for Schoenstein when they were both on the Bosse High School women's soccer coaching staff for 15 years.
"Eric was a huge reason why I wanted this job. I've known him for years and I've been his assistant coach before," Nohalty said. "I think we work really well together."
As for his goals for the season now that he's been named the assistant head coach, Nohalty said doing what he can to help the players grow on and off the field is one of his leading priorities, but there's something else that remains at the top of the list no matter the year.
"Our goal is to win a national championship," he said. "I want our kids to graduate and to be good citizens, but ultimately national championship is the main goal."