Golf scramble honors coach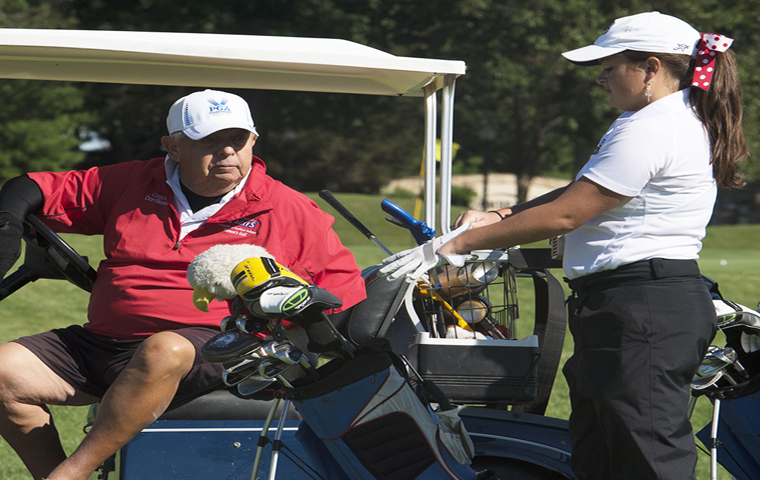 Lu Anne Howerton said one of the reasons the women's golf team holds the annual Don Bisesi Memorial Golf Scramble is to honor the USI Athletic Hall of Fame women's golf coach.
"Coach Bisesi was beloved by everybody, and he was an icon at USI," Howerton, current head coach of the women's golf team, said. "We wanted to pay tribute to him and have his name last forever."
Howerton said the event has become the team's biggest fundraiser.
Money raised from the event helps the women's golf team compete in a tournament held several states away such as New York or Texas during spring break.
"It allows us to do some extra things and play some different competition around the nation," Howerton said.
The team also uses some of the money from the event to fund a trip to Puerto Rico every other year.
This weekend will be the second time the team is hosting the scramble.
When Howerton took over coaching duties during the 2015-2016 season, the majority of the players on the team were recruited to USI by Bisesi.  In December 2015 when the team received news that Bisesi died, they, along with Howerton, came up with the idea as a way to memorialize Bisesi.
Former USI women's golf player and USI alumna, Anastasia Carter, said Bisesi made everyone he met feel special and that he would do anything for his players and the program he helped establish, which is why naming the event after him was an easy decision.
"He basically built the program from almost nothing, and it only seemed right that we name the tournament that we have every year after him," Carter said.
As for the event, it will consist of four-person teams battling for the top score over 18-holes and an awards dinner afterwards.
Entrance to the event will cost $100 per-person or $400 per-team.
The Don Bisesi Memorial Golf Scramble will be held at 1 p.m. Saturday, Aug. 26 at the Cambridge Golf Course in Evansville.