Evansville community responds to Charlottesville tragedy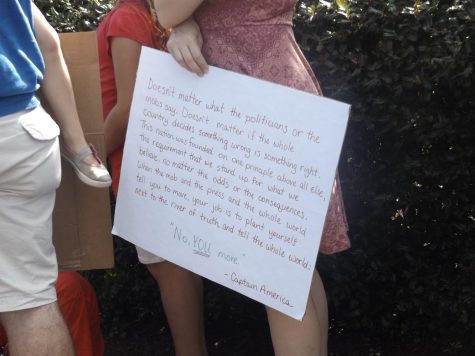 Hand-made signs towered over the sweat-drenched faces of Evansville residents Sunday afternoon.
No shouting, no violence, no fighting; only a contemplative silence. Yet the hundreds of people were protesting.
The group of people, diverse in age, gender, ethnicity and race, stood in unison singing "We Will Overcome" in response to the violence and hate in Charlottesville, Virginia from just the day before.
Charlottesville became a national concern after the Virginia town's white nationalist rally turned deadly. Local and national government officials have condemned the violence that took place.
"The Events in Charlottesville have called us away from our normal Sunday afternoon routines," University of Evansville President Tom Kazee said.
Kazee was one of eight speakers who spoke at the rally put on by the Evansville Executive Interfaith Partnership.
The slogan of the rally was "E really is for everyone" which plays off the official brand for Evansville- "E is for Everyone."
"I want to challenge everyone to create and sustain an environment where everyone feels safe," Kazee said. "Welcome to the rally for love."
Lexi Baxton, an incoming freshman, said she came to the rally to support those in Charlottesville and spread love.
Baxton held a sign that read, "In diversity, there is beauty and strength."
"I loved the atmosphere of the rally," Baxton said. "There was an inclusiveness about it with all religions and races standing together for the same cause."
Baxton said she wasn't shocked that people like those in Charlottesville exist.
"Being biracial, I was already aware people like that were out there," Baxton said. "People make small racist comments and it seems small, but atrocities like Charlottesville start with something as small as a racist joke."
Baxton said it is amazing to see the Evansville community come together.
"It's easy to forget good people are out there," Baxton said. "This rally showed people out there care about what is going on and want to see things change."
Jamie Bond said she came to the rally because she "loves everyone."
The 30-year-old Evansville native said her passion for protests started when she was young.
"My parents were those classic 70s hippies," Bond said. "The brought me to rallies and marches and I developed a love for standing up for a cause."
Bond said she has been to countless marches, the biggest being the Women's March in Washington D.C. However, even going to so many, she finds each one important to her values.
"I stand for these causes because every single person is different," Bond said. "Everyone deserves to have a voice and be shown love. I came today to support those in Charlottesville who no longer have a voice."
Leave a Comment