Student found dead in Warrick County
The body found in Warrrick County Monday morning was identified as an university sophomore.
Halee Rathgeber was found dead at the Alcoa soccer fields in Newburgh according to a news release from the Warrick County Sheriff's Department.
A release from the Warrick County Coroner, Sarah Seaton, stated the 20-year-old nursing major was shot in the head and her death is being treated as a homicide. There were no other "significant" injuries to her body according to the release.
Seaton said it is not known yet if the shooting happened at the soccer complex, but Rathgeber did die there.
Warrick County sheriff's deputies responded to a call of a deceased female at 6:45 a.m. Monday. Rathgeber's body was found in the parking lot of the soccer field complex at the intersection of Warner Road and Red Brush Road according to a Warrick County Sheriff's Department news release.
Anyone with information is being asked to called the sheriff's office at 812-897-6180.
The university released a statement Tuesday morning stating the campus community is "deeply saddened by this loss." The statement was sent to all of campus and was posted to its Twitter and Facebook accounts.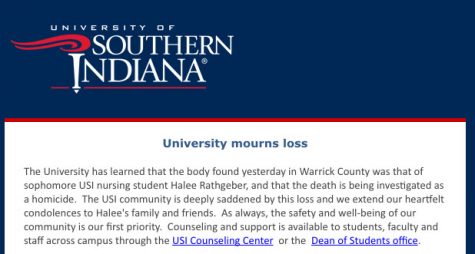 The statement pointed students, staff and faculty to the USI Counseling Center or the Dean of Students office if they are in need of support of counseling.
This story was last updated at 12:07 p.m. Tuesday