Barnett shines in weekend split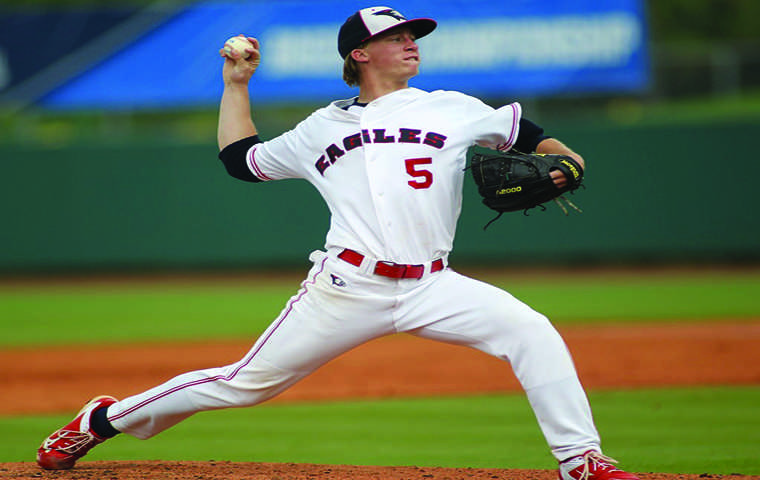 The baseball team started conference play by splitting its four-game series against Great Lakes Valley Conference opponent Bellarmine over the weekend by losing the first and last game.
Sandwiched in between the two losses was a 4-3 victory on Friday and a 10-1 win to start Saturday's doubleheader, in which starting pitcher, Lucas Barnett (2-0), pitched a complete game and only gave up four hits and one earned run. He didn't allow his first hit until the fifth inning.
"I just tried to stay simple and start early to make the hitters defensive," Barnett said. "I was aggressive and went right at (the batters)."
Barnett said even though he couldn't maintain his no hitter, he's happy to walk away with the complete game, but more importantly the win for the team.
The conclusion of the series ended with a walk-off win in the bottom of the ninth by Bellarmine. With the bases loaded, Bellarmine second basemen, Alex Ralph, hit a sacrifice fly to centerfield to send centerfielder, Bobby Brokamp, home, solidifying the victory and series split for Bellarmine.
Relief pitcher, Tyler Hagedorn (0-2), gave up the winning run to Ralph. Hagedorn pitched 2 1/3 innings in relief of starter Austin Krizan (1-1) and put the winning run in scoring position when he gave up a leadoff triple to Brokamp to begin the ninth.
"I was frustrated [after the loss]. I couldn't believe they just won on a walk off on their home field," Hagedorn said. "Being a freshman, I felt like I let the team down."
Hagedorn said the next time he pitches, he's going to work on hitting the corners and hopefully have a stronger pitching performance than the one he had Saturday.
Head coach Tracy Archuleta said after the series he felt the team left too many players on base and didn't make plays when they needed to the most.
"We have to take care of each game. We're a long way from where we need to be," Archuleta said. "We're in the conference season, and we need to start series'. A split here on the road is ok, but we had a chance to take this (series), and we let it slip away."
Archuleta said for the team to make progress towards getting better they're going to have to "grind" and put themselves in better situations when they're up to bat to be able to drive in more runs.
USI ended up with 15 hits in the 10-1 victory on Saturday. The team hit 21-of-92 (.228) for the other three games of the series combined.