Taylor to represent USI as all-star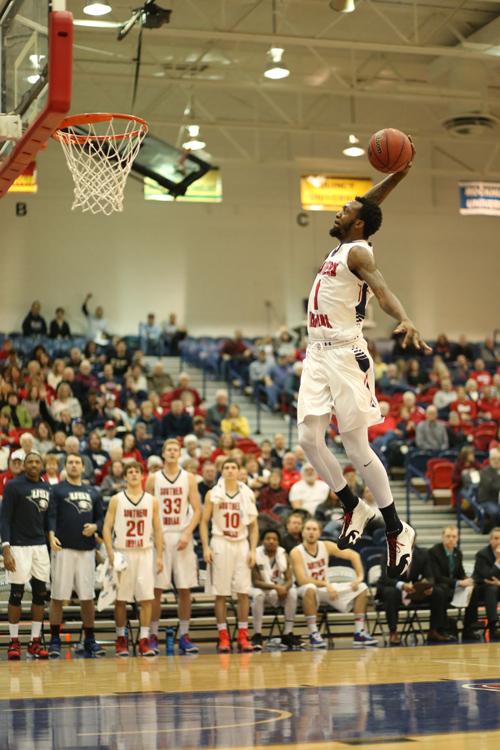 Jeril Taylor was named to the Reese's NABC Division II All-Star Game. The game is set to take place at the Sanford Pentagon in Sioux Falls, S.D. 7 p.m. Friday. Taylor will be representing the East Team and he's the sixth player from USI to be a part of the game. The Shield spoke to Taylor about his selection to the team.
The Shield: What are your thoughts to being named to the NABC Division II All-Star Game?
Taylor: Blessed. I called my mom and told her and she had a big emotional deal about it. It was just amazing when Coach Watson told me because I didn't think it would be possible for me to be playing in South Dakota, but they selected me for the All-Star game which means something.
The Shield: Where were you when you found out?
Taylor: I was actually sitting at home playing NBA 2K. Coach Watson called me and I couldn't pause it, so I put him on speaker. I was like 'hey, what's up coach?' and he said 'I got good news for you 'Ril. You've been selected to play in the All-Star Game. It's a great deal. You'll love it.' I said 'What?' and he told me they were going to fly me out to Sioux Falls and I told him I would call him back and then I called my mom. It was great.
The Shield: What do you want to gain from the All-Star Game?
Taylor: I want more scouts to look at me. The more people, the better. I'm just going to go out there and play my game and hopefully put on a show for the people, and give them what they want to see. I'm just looking for people to look at me and be like 'oh, I know that kid works hard and plays hard.' Just something, anything, but I'm humble at the same time. I'm going out there to have fun too. That's the main thing, to have fun.
The Shield: How do you feel about this being your final college game?
Taylor: I feel like it could have been better, but things happen. We didn't go as far as I planned or the team planned, but this is a good way to go out either way because not too many players from USI have been invited to the All-Star Game.
The Shield: You're the sixth player.
Taylor: Well, see there, that's an accomplishment because there's been a lot of great players that have come through USI. But to do it within the two years I've been here and to score 1,000 points and the 50 point game, it's a great honor.
The Shield: How have you been preparing for the game?
Taylor: I've been in the gym. Just shooting and getting a lot of shots up. Staying at home playing 2K, just trying to keep myself grounded by doing the things I normally do every day. I go to class and I come back and try to get a few shots up between classes. I go back home and play video games or I grab food with the team. Just the little things I used to do through the whole season.
The Shield: Where is your head at since the NCAA Tournament ended with you taking the last shot?
Taylor: I still haven't been able to cope with it. I still can't get the fact that my college career is over through my head and I could have determined that with a last second shot. It's something that's going to stay with me forever and I'll never get over it or be able to forget about it. But it's life, it happens and it goes on and hopefully the guys younger than me, the underclassmen, learn from that game and shot and how to handle the game in that situation.
The Shield: What are you going to do after the All-Star Game?
Taylor: I'm going to continue my workout reps and go back home to spend time with my family. They're ready for me to come home. I don't get to spend time with them that much. Just stay around them and my workout ethic. I'm going to go from there and keep working and, hopefully, I get in touch with anyone that's going to help me get where I need to be.
The Shield: Thoughts on graduation? You're going to be here an extra semester, but you won't be playing basketball, what are your thoughts on that?
Taylor: I just have to stick it out one more semester and I'll be done with school forever. That's the main thing on my mind right now. Coach Watson tells me all the time I've come too far and done too much work and I can't let it go to waste. I just need to push it out for two semesters and take a few summer classes, that's fine and better than forgetting about it until two or three years down the road and coming back. I'd rather just stick it out now.
Responses have been edited for length and clarity.