Softball splits conference doubleheader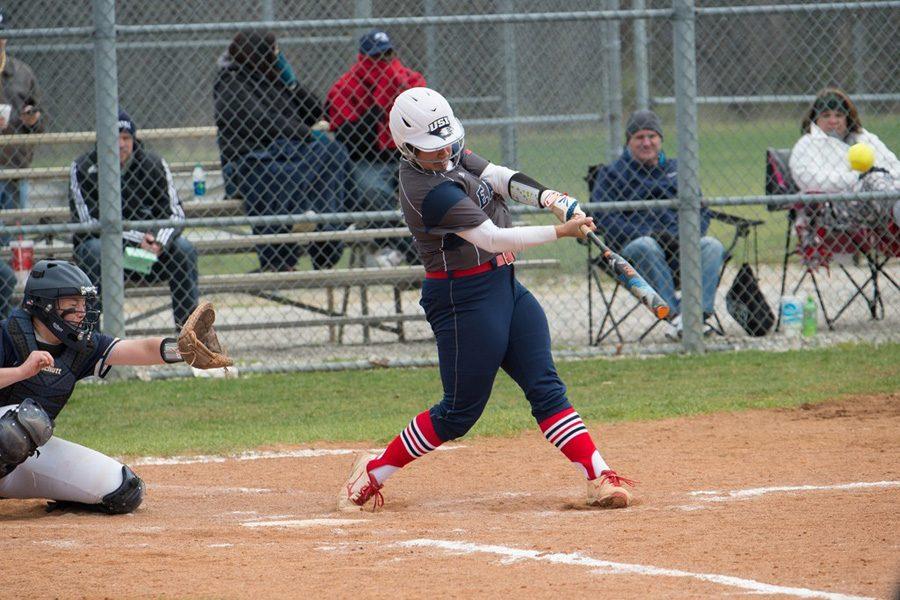 No. 10 Southern Indiana (18-4) opened conference play by watching their 10 game win streak end in the second game of Saturday's doubleheader against William Jewell College (8-10) 7-6 after nine innings of play. 
USI controlled game one of the afternoon by going 9-of-21 at the plate and scoring eight runs over five innings of play in the 8-0 win.
The umpires called game one in the fifth inning after second basewoman, Claire Johnson, singled to right field adding two more runs. Johnson finished 2-of-3 at the plate with five RBIs in the shortened game.
Starting pitcher, Jennifer Leonhardt (9-1), continued her early season dominance by striking out seven batters and allowing William Jewell to go just 2-of-17 at the plate with no earned runs given up in the first game. On offense, Leonhardt finished with two hits and two RBIs.
Game two was completely different for both teams. USI was down 6-0 after five innings. Starting pitcher, Courtney Atkisson (6-2), gave up three earned in just 2 2/3 innings pitched and Caitlyn Bradley (3-1) pitched five innings of relief and walked away with the loss.
Johnson, who scored most of USI's runs in the first game, went hitless in the second game, including two strikeouts in four at-bats.
"My mental game just got in my head a little bit. My first at bat wasn't so great," Johnson said. "I try not to take it to the field, but it just so happens it was one of those games where I let it get the best of me."
Johnson also finished with two errors on the game. She said she doesn't want to dwell on the mistakes she made and intends to focus on the USI's doubleheader Sunday against Rockhurst University instead.
The team managed to fight back over the sixth and seventh innings tying the game 6-6 after USI scored five runs in the seventh alone, including two home runs one by right fielder, Grace Clark, and the other by catcher, Haley Hodges.
William Jewell scored the winning run on a sacrifice fly to center field by center fielder, Madi Giles, in the top of the ninth.
USI head coach, Sue Kunkle, said the key differences between games one and two were the defensive errors the team made early in the game and the lack of adjustments the team made at the plate.
"It's going to be like this the whole season. We're going to have days where we're not as sharp as others," Kunkle said.
She said the opening games of conference play didn't end the way she wanted them to, with USI splitting the doubleheader, but there is no way for the team to change the results.
"You learn from it and the things you did wrong today, and we'll be better tomorrow. We'll be sharper tomorrow and what we can do is get back at it next week and figure out what we need to work on," Kunkle said. "We're always stronger the next time. We refuse to lose, but obviously it didn't go that way today. We'll find a way to bounce back, we always do."