Madrigal Feaste transports community to Renaissance
Chamber Choir event enters 47th year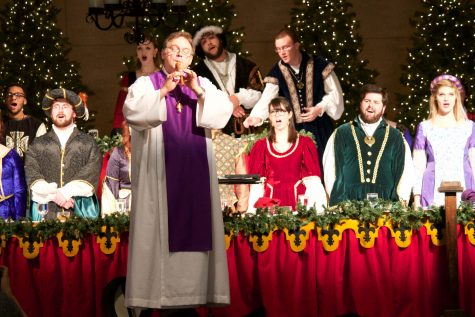 Carter Hall won't be Carter Hall Dec. 1-4.
Instead, Madrigal Feaste attendees will walk into a Renaissance-style Baron's Hall, immersed in a fifteenth-century royal feast with the university Chamber Choir.
For the 47th annual Madrigal Feaste, sophomore Beronica Ricketts will portray a Jester.
"The three jesters are the laughing stock of the kingdom," the graphic design major and Chamber Choir member said. "We have different skits that we do, such as acting out the 12 Days of Christmas as the choir sings it."
Ricketts said it's easy for her to get into character, which she'll need to do as she interacts with the audience during each night's feast.
"I have a bubbly, open personality, and me and the other jesters are always joking around with each other," she said.
Ricketts said Madrigal Feaste is a bonding experience for the Chamber Choir, and she wants it to also be memorable for the audience.
"I think they're really gonna like it," she said. "I want them to come back every year."
It'll be junior Kyle Leadingham's third year participating in Madrigal Feaste, this year reprising his role as the Chamberlain.
"I greet people and tell them the rules of feasting," the radio/television major said. "(Playing the Chamberlain) is amazing, and he's a cool character to be. The baron's hall is his manor."
To become the Chamberlain, Leadingham develops a thick Irish accent and speaks with a regal tone.
"As the audience eats, we're singing to them," he said. "No matter what, they're interacted with. The jesters play games with them and I pick audience members to dance."
Leadingham said the preparation for Madrigal Feaste started in October, and it's the Chamber Choir's biggest fundraiser of the year. This year, the funds will pay for the choir to travel to Poland and participate in a music festival.
"As we've been working together, we've come together as friends and teammates," he said.
Sophomore political science major Clay Steenbergen, playing Lord O'Connor, also said Madrigal Feaste is a bonding experience for the choir.
"The extensive time we spend together preparing for Madrigal has really made us have a family feel," he said.
Steenbergen said switching from being a college student to a Renaissance lord is a lot of fun for him.
"It's a switch of the mind," he said. "I tweak certain gestures and mannerisms to get into character."
After all the preparation, Steenbergen said he hopes attendees come to Madrigal Feaste with an open mind.
"I always hope they get something out of it, whether that be a laugh or a smile," he said. "Good memories are my number one thought."
Like Ricketts, he hopes people keep coming back.
"(Madrigal Feaste) is a really great way for us to be able to reach out to the community, and for them to know us," he said. "It brings people together."