No sophomore slump for Frank Ocean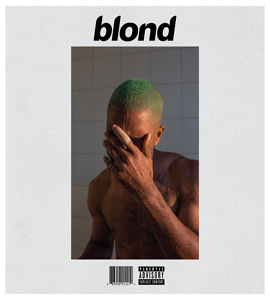 I remember listening to "Channel Orange" in 2013 and thinking how mesmerizing all of the songs on it were.
There was nothing like it at the time of its release. It was utter bliss; my ears felt like they were cheating on Top 40, because I listened to it more than anything else.
Fast forward three years, and Frank Ocean's sophomore album is out.
It's no "Channel Orange," but "Blonde" lives up to the much anticipated hype that has been overflowing from the last three years of fans eagerly awaiting a followup to his first album.
It was first teased as "Boys Don't Cry," but even without that title, this is a triumphant R&B experience by Frank Ocean.
The tracks are all varying starting with "Nikes," which criticizes materialism and pleasure-seeking tendencies. It's the first track on the album, and it starts things off right. It sets a tone that is followed by many of the other tracks.
There's the social commentary of "Be Yourself," which is seen in the form of a voicemail that one of Frank's friend's mothers left them. It warns against drugs and drunk drivers, but its main message is to be yourself.
This is a more mature Frank Ocean, a Frank Ocean that often dwells on the past.
As seen in breakup songs like "Seigfried," which is about a failed relationship,  and "Ivy," which is an inner introspection into the mind of Frank Ocean, and mistakes that have been made in his past, and wanting to change them.
This isn't the kind of album that works in a gym setting, it's for quiet relaxation. That said, it accomplishes everything that it wants to do very well.   
On top of that, the featured artists are all fitting for someone that is as revered in the music industry as Frank Ocean. "Pink + White" has backup vocals from Beyoncé, which aren't even credited on the surface of the track.
André 3000 has a stand-alone track on the album in "Solo (Reprise)," and Kendrick Lamar has shared vocals on "Skyline To."
The tracks on "Blonde" have less of a pop feel and more of an R&B feel than Frank's last album.
There's one thing all of the songs have in common: they're full of soul. This is a true R&B album, which is what sets it apart from many of the mainstream albums that have been released recently.