Multicultural Center adds trio of employees
'It's all for the students'
D'Angelo Taylor wants the USI community to know the Multicultural Center is for everyone.
"You can't have a multicultural center if you don't value a different variety of people," the assistant director of the Multicultural Center said.
Taylor was one of three new hires in the Multicultural Center this year and he wants everyone on campus to come visit to see what they can do with the organization.
"I think diversity is key," he said. "We talk about these things and people are afraid of the word 'diversity.' Some people think it is putting them outside their comfort zone of self."
For Taylor, diversity means education.
He said one of his best friends was raised in a rural community, which was quite different from how Taylor grew up on the southside of Richmond, Virginia. Both of them would bounce questions off one another, at the same time learning a little bit about a community they didn't live in.
"We know we are different, but how?" Taylor said. "If you don't know the how, it makes it harder for you to understand where someone is coming from."
Taylor was the second of five children, all raised by his grandmother, who he said was the strongest and smartest woman he's ever known.
"The upbringing was tough but necessary," Taylor said. " I always joke and say that my house was hand-me-down central."
Taylor said if anyone wanted to know what he would be wearing for school the next year, they just needed to look at his older brother that year.
"It humbled me," he said. "It taught me that name brands aren't everything. It's not about the clothes, but about the person that wears the clothes."
Taylor was the first person in his family to attend college and while at Western Illinois University, he found his niche in political science.
He ended up graduating with a bachelor's degree in political science and then a master's degree in political science with an emphasis in public administration.
Taylor joined student government on campus and held multiple positions in campus government before his college career ended, including the student representative for the board of trustees.
A friend of Taylor's would tell him people knew he would do well in college, but they didn't expect just how well.
The road did have bumps, one which came the second semester after his freshman year. He had it in his mind to quit school after he ended the semester with his worst GPA, around a 1.8.
"College wasn't for me," Taylor said. "I just ran into mentors who wouldn't allow me to quit."
Taylor said that's what he wants to impress on students who enter the Multicultural Center.
"
"I want to make sure that every student understands that failure is not an option, neither is quitting."
— D'Angelo Taylor
In his previous position as an admission counselor at Western Illinois University, he was able to recruit students from areas where they may not have known anything about college.
But in admissions, they often have to focus on recruiting the next class as opposed to mentoring each students who comes in the doors.
In the Multicultural Center, Taylor will be able to see students he mentors from their first involvement all the way until they cross the stage at graduation.
Taylor will focus on assessment as assistant director, what's working and where it would be best to place the Multicultural Center's efforts.
"It's all for the students," he said. "No matter what we do it's all for the students."
'I want to be an example'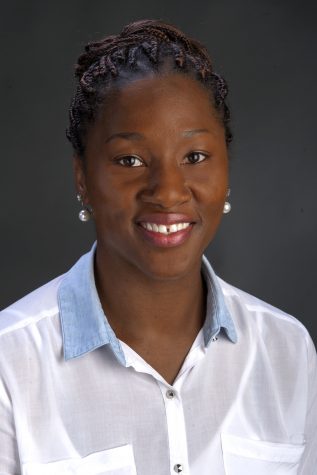 Candace Fairer's 3-year-old son is always on her mind.
When she decided to apply for a job in the Multicultural Center, she was thinking of him.
"I want to make sure he understands his dreams and his goals can be reached if he continues to work hard," Fairer said.
Fairer is joining the staff as an outreach coordinator and student mentor, something she thinks would have benefitted her when she started college.
One goal for the Multicultural Center is "access by design," which was included in the university's strategic plan for 2016-2020. "Access by design" is the intentional creation of opportunities for students, faculty and staff by allowing more access to organizations for the people who will thrive within them.
Fairer said she understands the goal because her focuses include first generation or low income students who are embarking on their college journey.
She attempts to help those students and their families understand what to expect from the process and in some instances she provides explanations of the academic terms that are helpful to know for the technical processes.
"I hold that dear just because I was a first generation college student, a low income student and I didn't know the ropes," Fairer said. "I needed someone like myself who could help me through the process."
In this new role, she said she looks forward to being able to do more of that type of assistance and help students understand the culture of the campus community.
She said it was tough for her to navigate and understand the process of financial aid. The fact that she did not have assistance makes her excited to provide that to other students.
"I know how beneficial it is to have someone," she said.
Fairer attended the university for two years before transferring to Indiana University to continue her collegiate track career.
During her two years here Fairer said she was aware of the Multicultural Center, but she wasn't involved very much with it.
"I went in a few times in between classes," she said, "but I was a student athlete here at USI so I didn't have a lot of free time to join the services and events on campus."
She said she can see a huge difference between the university diversity now and when she was a student.
"I can appreciate it, I'm on a different side now," she said. "I'm an administrator now as a opposed to a student."
"
I want to see a diverse population. I think that helps everyone grow educationally."
— Candace Fairer
She said having people from all walks of life, cultures and ethnicities brings a rich culture to the university that doesn't exist everywhere.
"I think most people have been affected by diversity one way or another," Fairer said. "I want to see a diverse population. I think that helps everyone grow educationally."
In her role she will bring collaboration with other offices on campus. She is in contact with other people on campus so that when students approach the center they can be sent in the right direction.
She will be the point of collaboration for every college and every dean on campus.
"My life to me now is an example," Fairer said. "I want to be an example, a mentor, a leader, for people who are interested in succeeding."
'A home away from home'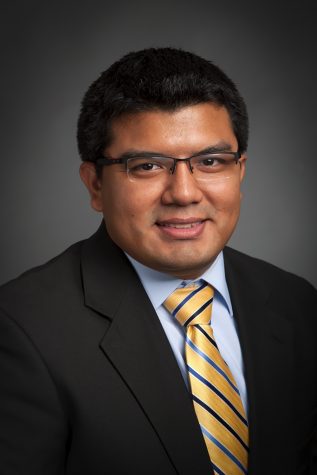 Cesar Barrios hopes students of all backgrounds feel welcome in the Multicultural Center.
"I heard about the Multicultural Center when I was an undergraduate here, but not a lot," the new program adviser said. "Since now I have this position, I want students to really know about us."
Barrios graduated from USI in 2013 and returned this year to pursue a Master's in Second Language Acquisition, Policy and Culture. Over the summer, he saw position openings in the Multicultural Center and pursued the opportunity.
"I wish I would've known about the Multicultural Center more before and maybe taken that initiative of walking through the door," Barrios said. "Now I want to help students in the same situation."
As a first generation college student, Barrios said he had to figure a lot of college out on his own, but he did have valuable support from his parents.
"It's crucial for (the Multicultural Center) to build relationships," he said. "We need to reach out and help people. That's when they come back."
"
We need to reach out and help people. That's when they come back."
— Cesar Barrios
Barrios, born in Nicaragua, will be leading Hispanic Heritage Month events from mid-September to mid-October. The events include a panel of professional speakers discussing hispanic culture as well as a Latin dance class.
"I don't want people to think any specific race comes in (the Multicultural Center)," Barrios said. "If there's any place where students can feel most comfortable and safe, I want it to be here."
He said he wants students to see him as a leader, but also someone who was in their position not all that long ago and someone who can relate to them.
"I want us to have a creative relationship with student organizations," Barrios said. "We can go to Student Government Association or Greek chapters and get the word out about the Multicultural Center."
As one of several new hires, Barrios said he and the other multicultural staff bonded" quickly and are already collaborating on new ideas.
"I talk to (Fairer) and (Taylor) every day," he said. "We bring new ideas to each other and share what we're doing with our programs."
Barrios said he hopes students find someone in the Multicultural Center they can trust.
"The Multicultural Center is a place they can call home," he said. "A home away from home."