'A very short memory': Junior softballer discusses success, need to stay confident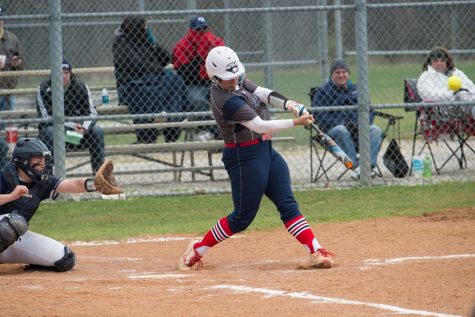 Junior computer science major Haley Hodges now holds the single-season home run record for the university. The pitcher/infielder sat down with The Shield to talk about when she discovered softball and this year's season.
The Shield: What got you started playing softball?
Hodges: It was a little town league. I don't remember exactly why I wanted to start playing. I think a lot my friends were. I just wanted to be a part of it, too. After I started playing, I just fell in love with it.
The Shield: Did it take time for that love to develop?
Hodges: I had always been an athletic child. I was already in soccer and gymnastics and neither of those were really my favorite. But then, when I started playing softball, I was like, "Wow, I really like doing this," and I just kept doing it.
The Shield: Did you grow up in a softball community?
Hodges: I'm from Portage. It's a pretty good-sized town up north close to Gary. There were definitely a lot of good, talented players around and especially in the towns around us. When I got a little older, I started playing travel ball and it was all very competitive.
The Shield: Did you enjoy the competitive nature of the sport?
Hodges: Definitely. Playing against people who are good makes you an even better player.
The Shield: Have you always played the same position?
Hodges: I've been catching since I was 11 and since then, I haven't really played many positions besides that. Before that, I was mostly an infielder.
The Shield: Do you have a place on the field where you feel most comfortable?
Hodges: I definitely feel most comfortable as a catcher. You have to think a lot. You're involved in every pitch, every play of the game. You're the eyes and ears of the game. You can see pretty much everything that's going on. I like that you have a certain amount of control over the pace of the game. It's a very mental position.
The Shield: At what point did you realize you wanted to pursue college softball?
Hodges: Definitely very early (in high school). I might have realized in middle school even. But from watching the women's college world series on TV. I realized, "Wow, I really want to be a part of that someday."
The Shield: Did you have a lot of family support behind that decision?
Hodges:  It's been really great. My parents are super supportive. My dad was an athlete, so he's been a huge part of this. He's been my coach for a long time.
The Shield: Did you look at a lot of colleges before choosing USI?
Hodges:  I actually didn't. I didn't want a ton to do with the recruiting process. I thought it was all a little bit stressful. I mostly went to camps and when I came here, they liked what they saw, I guess, and the rest is history.
The Shield: When you look back at high school, do you consider that time a success?
Hodges:  I think my high school career was definitely successful. My senior year, we actually went and won state so that was pretty cool, too. I've grown as a player since high school, but that was part of it.
The Shield: Once at USI, what was it like adapting to the team?
Hodges:  Freshman year is always hard because you have to earn your position with a bunch of other girls, who were all the best players at their schools, too. It was tough, I guess, but I've always been the type of person who wants to earn my spot. I feel like after my freshman season I did earn my spot.
The Shield: Did the team closeness come quickly?
Hodges:  The first year I was here, I was maybe not as close to everybody, but that's normal. I take a little bit to warm up to people. That's just the way I am. This year, we are all very, very close. We have great team chemistry.
The Shield: How important is the chemistry to team success?
Hodges: It's so important. It affects the way we play with each other on the field — how we string things along even if they aren't going as we want them to. It helps us push through because we know we're all there for each other and playing for each other. Just in general, having a family to come to when you aren't close to your parents at home is a comforting thing.
The Shield: Overall, how have you felt this season?
Hodges: I think we are doing really well this season. We are playing as a team. Everyone is pushing to make each other better, pushing to win games and support each other. I can't say enough good things about this team this year.
The Shield: How does the current success affect the future?
Hodges: I try not to think too much ahead. That's the one thing that's made the difference this season. I'm not putting as much pressure on myself. I'm trying to be a little bit more confident. I think that's helped a lot. My teammates have all been great. They go crazy everytime someone hits a homerun. It's always so exciting every time anyone is successful on this team.
The Shield: What goes into having confidence in a game for you?
Hodges: You have to have a very short memory. Even if you struck out your first at bat, you have to find a way to make the most out of your next one. It's really a hard thing. You have to fake it until you make it. Once you start doing better, you string things along because you start to think, "Oh, I can do this."
The Shield: Has there been a point this season when your confidence was low?
Hodges: Absolutely. You try really hard to stay confident but there are going to be games when you just don't do well, or games where you put pressure on yourself or someone else is putting pressure on you. But through that, you just have to know your teammates, your coaches and your family are all there to support you no matter what, and that's what I usually think about when I'm stressed out. I just try to go up there and have fun.
The Shield: What part of the game is fun for you?
Hodges: Everything is fun, I think. Softball is the one release you get from school and work and real-life drama. Getting to be out on that field is such a privilege and doing well just adds to that.