'Part of me, but not all of me'
TWLOHA speaker, students tackle stigmas surrounding mental health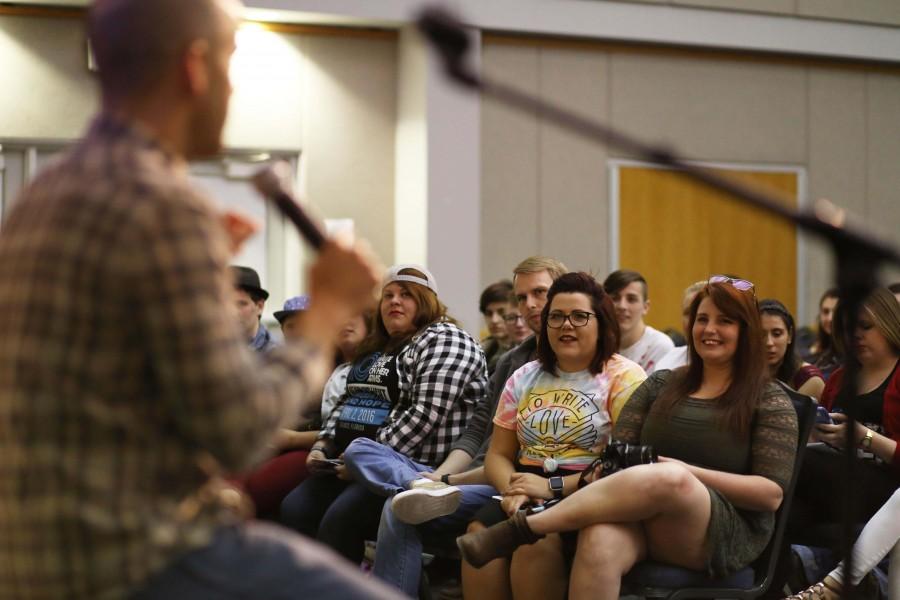 At the age of 11, Patience Fehribach was lost.
She slept too much and lacked the energy to attend school. Doctors diagnosed her with depression, but as a young girl, she had trouble making sense of it all.
"You go through spells," the senior nursing major said. "I recognized (severe depression) not when I had it, but I noticed when I didn't have it anymore."
More than a decade later, Fehribach said she's graduating this month after the best semester she's ever had.
"I'd like to say (depression's) gone, but there are still days when it's hard," she said. "I've grown a lot as a person. I didn't think I'd make it this far."
As president of the university chapter of To Write Love on Her Arms, Fehribach worked with other officers to bring mental health counselor Aaron Moore to campus Tuesday.
To Write Love on Her Arms is a nonprofit organization "dedicated to presenting hope and finding help for people struggling with depression, addiction, self-injury and suicide."
The initial group was founded in 2006, and the USI chapter was established in 2011.
Moore, an official counselor for TWLOHA in Orlando, spoke about the importance of open conversation concerning addiction and mental health.
Moore is the most recent speaker since TWLOHA brought the founder of the national organization to campus three years ago.
"If we don't have conversations, we don't push people toward recovery, and we sure as hell don't help with prevention," he said to an audience of about 30. "When we begin to find the freedom to be honest, that's when we can provide hope to others."
Students discussed stigmas surrounding mental health such as being labeled as "attention-seeking," or others immediately trying to "fix the problem."
"We don't need an awareness of depression," Moore said. "We need an awareness of real people and their stories."
'I wish I could've helped'
Junior John Fischer said his friend's suicide several years ago "came out of nowhere."
"I don't specifically remember that last time I saw him," he said. "If I knew that was the last time I was going to see him, I would've made myself remember. I wish I could've helped him."
The radio/television major said he's doing everything he can to make things right. Fischer joined TWLOHA to help others who might be thinking about suicide.
According to the Center for Collegiate Mental Health, 31 percent of college students seriously consider attempting suicide.
"I'm still kind of reeling from (my friend's death)," he said. "It's not something you really get over. It sticks with you."
Fischer said though dealing with the death is painful, it made him more conscientious of how he treats others.
"I'm a more caring person," he said. "I keep an ear out for people if (they) need to hear kind words."
Moore told the audience he's fortunate to have friends who check on him when he seems to disappear, and people need to be initiating those conversations to prevent tragedies like Fischer's.
"You should always lean toward compassion," Moore said. "Honesty without compassion is not honesty, and compassion without honesty is not compassion."
'One can find hope'
Moore said while there's still a stigma surrounding mental health, it's less than it used to be.
"There are still perceptions in all of us about those who struggle with depression," he said. "In reality, it's just a human thing."
Katie Biggs got involved with TWLOHA after seeing her friend wear a bracelet in middle school. When she met others in the group, she realized her issues were indeed "a human thing."
"I struggled with depression and self-injury in middle school," the sophomore psychology and English double major said. "The bracelet started a conversation that opened a door to help others who struggle."
Biggs said it was difficult at first to talk to her family about her feelings, but her years with TWLOHA have taught her "it's OK to not be OK."
"Depression is like a coat you can never take off," she said. "It's a part of me, but it's not all of me."
Biggs said one issue she sees at the university is her peers not utilizing campus resources like the Counseling Center to reach out for help.
"There's a magnificent quote from Harry Potter that basically says no matter how dark and dreary it is, one can find hope if they look for it," she said.
Biggs said she's overcome her struggles and is thriving as an honors student and TWLOHA's event coordinator.
She wants other students to know it's possible for them to cope, too, and encourages them to join TWLOHA or learn about its mission.
"There were days I didn't think I would make it to 15, to 18, to 20," she said. "I've done more than I thought possible, and I'm more than I ever thought I would be. Don't ever give up."