Golf breaks multiple records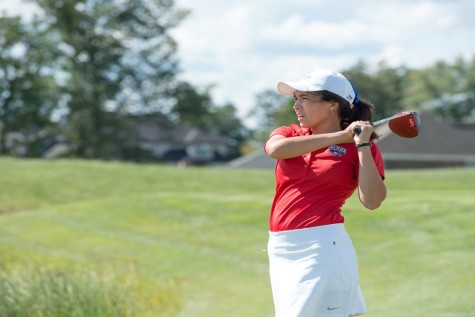 Brittanie Garrison broke a 12-year-old record during the last golf tournament, a feat she attributes partly to the weather.
"It was perfect weather, especially Friday, and it wasn't very windy, and I hit the ball well," she said. "It was like everything was going right."
Garrison shot the lowest single round in USI's history, with a 68 (-4).
The record was previously set by Alisha Luigs in 2004. She also had a three round total of 219, the lowest score for a 54-hole event that was previously held by teammate Allison Koester.
The women's golf team finished third out of 27 teams last weekend at the Perry Park Spring Fling tournament hosted by Lewis University, in Perry Park, Kentucky.
"We have a very good team and have the potential to (break records), but we played a lot better than what I had expected," Garrison said.
The team also set an 18-hole record and 54-hole record.
"We played awesome. The girls played really well and finished well," Head Coach Lu Anne Howerton said. "(Garrison) had played the best golf I've ever seen her play."
This tournament was different than others because it has 27 holes for each round, but Howerton had no expectations going in.
"They worked really hard over spring break and we knew we had a good chance," Howerton said. "(Garrison) was hitting the ball right at the pins and making every birdie. She played unbelievable for 27 holes and gave herself every opportunity."
Three girls finished in the top 15 and five finished in the top 25. Howerton said when players do that, you know you're going to put up big numbers.
Their next tournament is the Maryville Spring Invitational in Maryland Heights, Missouri, where the team hopes to continue its success.
"We're just going to keep practicing and build on the good things we did last weekend," Garrison said. "We will try to keep playing well and continue that into the regionals."