Martin puts 'best foot forward'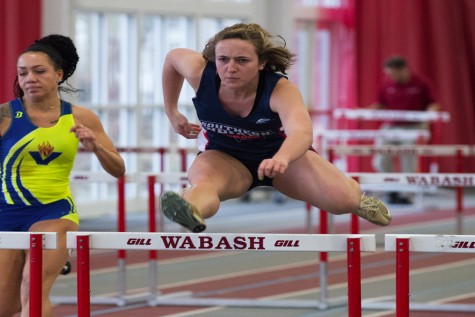 Sophomore sprinter Jenna Martin placed first in high jump at the University of Indianapolis Track & Field Challenge this past weekend. In the same meet, she set a new school record in the 60-meter hurdles. The Shield sat down with Martin to learn a little more about the biology major and her season.
The Shield: What made you choose USI?
Martin: I actually started off down at Murray State University running track for them and it just didn't feel right. It wasn't really where I wanted to be. Since I'm from Evansville, I kind of came home, and USI is a really great school. They have a really great biology department, which is what I'm going into. My older brother had run for USI also, and I contacted Coach Hillyard and told him I would be here and asked if I would be able to run for USI.  He knew me from in town in high school and from my older brother Matt, so that's kind of how I got connected here.
The Shield: Did you feel better after you started at USI?
Martin: Oh my gosh, it's great. The track program itself, the school itself—everything here has been like home to me.
The Shield: What started you in track in the beginning?
Martin: Oh goodness, that's a tough question. To be honest, I don't really remember. I guess influence from Matt again. He was actually a distance runner, so when middle school started track, he expressed interest in it. Matt, being my older sibling, is my role model in a lot of different aspects in my life. He said, "Why don't you come out and try it? You play soccer. You're quick. You might be pretty good at it." I went out and I said, "I'm not running distance, though. I'm going to stick to shorter sprints so I don't have to go that far." He pushed me a little bit to give it a shot and I ended up falling in love with it.
The Shield: So you connected with the sport in high school?
Martin: When I really connected with it was in high school, but we had a little middle school program that was like, "Oh, just come out, run, have some fun." My high school coach (at Memorial) got me really connected to it.
The Shield: How many events do you compete in?
Martin: Right now, I'm focusing mostly on the 60-meter hurdles since it's indoor season, and then in outdoor it will be 100-meter hurdles. I also long jump. I will occasionally do a 200 meter, but I actually haven't competed in it this year.
The Shield: Do you have a favorite area to compete in?
Martin: There (are) areas of both that I really enjoy. Long jump I enjoy. You get multiple attempts. You get a decent jump your first one, you get a second shot  to kind of play around with it a little and improve yourself and make your next two jumps even better than your first. I honestly just think hurdles are fun. I'm short for being a hurdler, and so I line up on the line and people kind of look at me like, "You hurdle? What?" but I mean I get over them alright. That's always been one that's just kind of intrigued me.
The Shield: Was there an aspect of the sport that drew you to it?
Martin: Track is very much an individual competition, but the part about track I like the most is you're competing on an individual level, but you're competing for your team. I really enjoy the fact that I don't look at it like I'm getting points for me. I'm looking at it like I'm getting points for the team. Overall, you've got that whole team dynamic (where) you pool all those points together. I think everyone in the track program is great and we get along really well with everybody. We don't ever have any issues with that.
The Shield: Did you expect the success you had in the last meet?
Martin: It's kind of difficult going into a meet because you always take the mentality of, I'm going to do the best I can because, like I said, that team aspect. You want to gain those points for your team. As far as taking first in the long jump, that kind of took me by surprise. I always put my best foot forward and try my best in all my events, but I wasn't expecting first place. I just went in with a positive attitude, warmed up properly and got myself ready to go. I wanted to see what I could do.
The Shield: What was the team or coach's reaction to your finish?
Martin: Coach Nate Christianson, an assistant coach, is really excited about long jump. I am doing a lot better than I was last year. I was in the low 5-meter range and now I've moved up to averaging about 5.25. So I'm doing quite a bit better in that and he's happy. Then Coach Hillyard came over to me and said, "Did you just reset that record in the hurdles?" and I was like, "I think so." He was like, "That's awesome." They're both so supportive and they get excited, not just about my success, but everybody's. We look at everybody and how we've done all the way across the board. I know we've had quite a few others who have been doing well individually this year. It's always good to see all of our events doing much better.
The Shield: Indoor season will be finishing soon. Are there any differences between the indoor and outdoor season for you?
Martin: I noticed that for outdoor we do go against a lot of different schools. Most of our indoor meets are centered around the University of Indianapolis. So we'll kind of get the same pool that we get competition-wise there and we don't get a lot of GLVC schools until we get to conference. With outdoor, we'll go to multiple places and see what competition other schools can bring to the table.
The Shield: Do you have a season you enjoy more?
Martin: I actually like indoor, which is backward from a lot of people. Most people like outdoor a lot more. I think the dynamic (indoor) is a lot better for me. In outdoor, people are kind of spread out. The races are shorter, so that's kind of nice.
The Shield: Do you have any goals for yourself?
Martin: I would really like to be able to continue with long jump on the track that I'm on. Coach has actually set a goal for me to be able to jump 18 feet by outdoor season to see if we can achieve that. On hurdles, I ran my personal best when I was  a junior in high school and I haven't run it since. I've gotten close. I've gotten very close, within 1/100's of a second. I haven't quite been able to run that one race again. I'm hoping I can duplicate that or get a faster time so that I can make myself better.