Men's basketball struggles to close, loses fourth-straight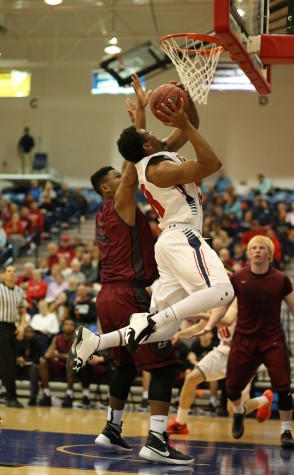 T.J. Tisdell said the biggest issue for the men's basketball team is closing out games in the final moments.
USI could not close out the University of Indianapolis in the final moments and it led to a 82-78 loss. The Eagles entered the game on a three-game losing streak and were close to breaking it up until around the final minute.
The teams began to trade points back and forth at about the five minute mark, but eventually UIndy was able to capitalize and extend its final lead to four.
"That's our biggest issue is to play 40 minutes of basketball," the junior forward said. "Right now it seems like we're playing 38 or 39. That last minute is killing us."
Tisdell, who scored 11 points and had five rebounds on the night, said they have to figure out how to capitalize to close out games.
Tisdell was joined by four other players in double figures including guard Alex Stein (16), forward George Edwards (15), guards Jeril Taylor (12) and Travis Britt (11).
The teams were evenly matched on rebounds, both ended the night with 33, but Tisdell said it came a little late.
He said the team did well on rebounds, but if it had pulled down some of the earlier opportunities it would have given more chances to stop a loss.
"Rebounding always plays a big factor," he said. "Especially if the game is in conference."
The teams also ended the game tied on turnovers, both with 12.
Assistant coach Kevin Gant said to prepare for the game on Saturday the team needs to come together and prepare during a "short, sharp" practice.
He said it does come down to closing out in the final minutes, but not everything the team is doing doesn't work. He said the offense is alright, but defensively the team is not stopping its opponent when the game is close.
"I don't think its the effort, I think that sometimes the ball doesn't bounce your way," Gant said. "Even if it doesn't, you have to find a way to go get the ball and we just haven't done that yet."