'No-brainer inductee' enters Hall of Fame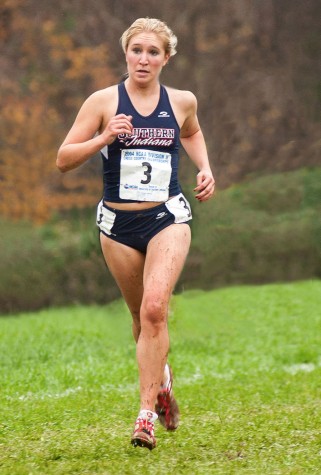 Heather Platt spent three years as a runner at USI before she was diagnosed with bipolar disorder.
"As amazing as my running career was, it ended very abruptly and really quickly," she said. "Yes, I accomplished a lot, but I never got a degree."
Now, she will be inducted into the USI Athletic Hall of Fame as part of the 2016 class by a nine-member committee.
Platt said her only tip to her induction was a message left on her phone from athletic director Jon Mark Hall.
"I really didn't know anything at all," she said, "I knew Hillyard wanted to me to be in the hall of fame, but I had quite a different view."
To be eligible to enter the USI Athletic Hall of Fame, a former athlete does not have to graduate from the university, they simply have to have good academic standing and be 10 years removed from being a student-athlete.
Platt was the first female national champion at USI after she earned the title in the 3,000 meters at the NCAA Division II Outdoor Championships during her 2004 season.
She also earned the GLVC Freshman of the Year honor in cross country, indoor track and field and outdoor track and field in 2002-03.
"She is one of the most decorated female student-athletes from USI," Hall said. "…She is kind of a no-brainer inductee."
Platt said her most memorable races are the ones when she ended with an unexpected time.
Head coach of track and field and cross country Mike Hillyard said this isn't necessarily a trait that solely reflects Platt, but a lot of distance runners.
"All distance runners, they love that personal record," Hillyard said. "She was very time-driven."
Hillyard said Platt did anything to win, something he said was a rare gift at the Division II level.
"She honestly had the best race instincts of any athlete that I've ever coached," Hillyard said. "She just knew how to win. When the gun went off she never thought about pain or discomfort."
Despite all of her success, Platt said it is hard for her to talk about her running career because of how it ended.
"(Withdrawing from USI) was quite devastating," she said. "I guess part of me wants to run away from my career. I loved running and being there. I felt I had to start anew."
She said running was a love-hate relationship for her and it simply started as a way for her to get out of a six-year extracurricular.
"The thing that got me into running was, I told my parents I would run if they would let me quit piano lessons," she said.
She said she competed "pretty well" in high school and when she got to college she continued as a way to make friends.
She said she focused on doing what Coach Hillyard asked of her and now she's happy to see how amazing the team he's built is now.
"He is crazy supportive," she said. "He's got so much energy, he's always been there."
Now, she'll have a chance to come back and see the university and Coach Hillyard when she returns for the induction ceremony Feb. 12.
Platt said she almost didn't return Hall's call to accept the honor, but her family's support gave her the extra push she needed.
Her husband began to tell all of their friends she was going to enter the Hall of Fame, and despite her initial embarrassment, she said it was nice to see him so excited about it.
Along with her husband, her parents will also be in attendance at the induction.
"They've always been supportive of me," she said. "I think they are the main reason I decided to accept the award because now that things have worked out and I can look back and be happy even though it ended."
Platt attempted to come back to the university to complete her degree, but she said it didn't work out for her.
She ended up completing a degree in biotechnology from Ivy Tech, taking one course at a time while she worked full time.
She said she felt like she couldn't give up all of her education.
Now, she said she can look back on her career and know she learned a valuable lesson.
"Anything you do, your world can change in a second," Platt said. "Even though it was my worst fear come true, it's something you just have to cope with and deal with and you have to move on."
She said running was the best feeling in the world, but it also was a trigger. A bad workout or race would make her want to close herself off from everything and a win "was like the highest high of all time."
Now, she said, even though it was hard to change her lifestyle, she has moved on to a much better place.
"I mean, when I was running I thought I was the happiest person in the world…but looking back now I was probably the loneliest person in the world," Platt said. "Now I'm happier than I've ever been."