Public Safety increases law enforcement presence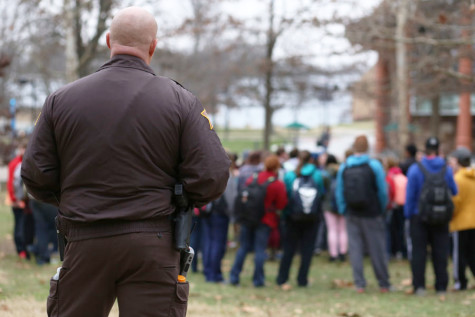 Director of Public Safety Steve Woodall said having off-duty officers on campus is nothing new, but Public Safety has been increasing their presence at an estimated cost of $50,000 per year.
While several news articles surfaced within the past months reporting the university as the only four-year public institution in Indiana without armed officers 24/7, Woodall said those reports had no bearing on Public Safety's decisions.
"(The increase of officers) is not anything to do with any specific incident," he said. "We started this roughly at the beginning of the semester."
Woodall said armed, off-duty officers from the sheriff's department are present on campus more often now but not necessarily 24/7 or on a consistent schedule. He said they won't have assigned stations, but the officers are to walk the buildings, assist when Public Safety is called and help with traffic.
"We've always had a high presence and visibility of law enforcement," Woodall said. "We've always used them for athletics, commencement and those types of events."
Woodall said the current system of having off-duty officers most of the time should continue indefinitely.
"From what I've heard from everybody, I've heard (the increase) is well-received," he said.
There are two theories about the effectiveness of law enforcement presence on any college campus, Woodall said.
"Some say it acts as a deterrent, and some say it doesn't," he said. "If the campus community feels more secure with law enforcement here, that says in itself that it has acted as a deterrent. I'm a firm believer in perception is reality."
One of the benefits of more officers on campus is a faster response time, Woodall said.
He said hiring off-duty officers at an hourly rate is much cheaper than his estimate of $75,000 per officer if the university were to hire its own police force.
"A deputy sheriff makes almost $43,0000 in his starting year and has a $30,000 benefit package," Woodall said. "If we had our own force, we would constantly have to train people."
The $50,000 for off-duty will come from allocated giving and general funds, Woodall said.
Steve Bridges, vice president of Finance and Administration, said with a strong relationship with the sheriff's department, it felt natural to increase their presence on campus.
"We already have a secure campus," Bridges said, "but (having more officers) is a good ability to have."
Bridges said funding itself comes from the general fund and is processed through his office, and Finance and Administration has decided to increase presence through the spring semester.
As for the $50,000 per year hiring more officers requires, Bridges said the cost will be worth it.
"I just think it's a good investment, and it'll be quicker to respond to any incidents," he said. "It's money well spent."