Mattingly donates $25,000 at charity event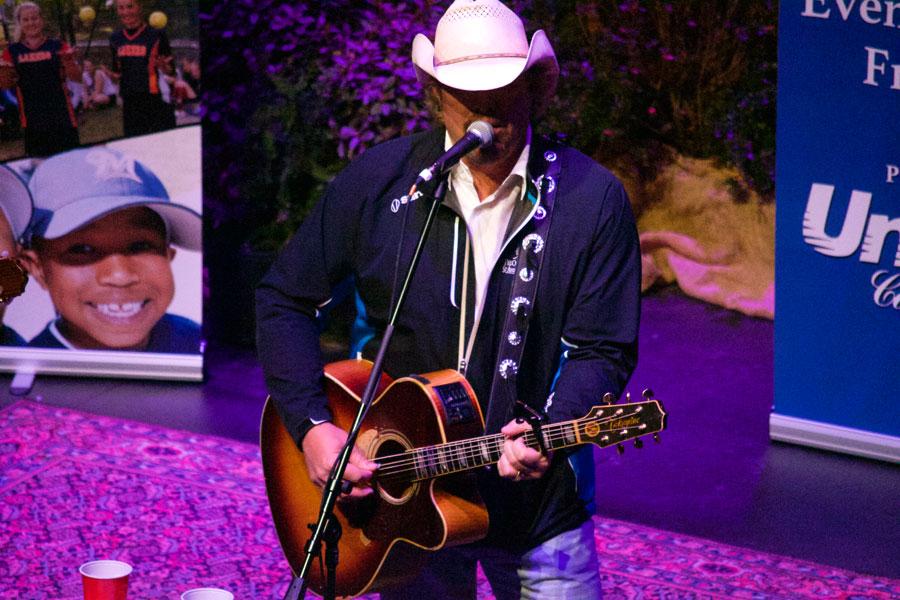 Six girls anxiously awaited for Toby Keith's arrival on Thursday screaming, "Toby Keith" and holding up signs expressing their love for the country star.
Keith joined Albert Pujols and Don Mattingly for Mattingly Charities' fundraising event "An Intimate Evening With Friends." The event took place at 6 p.m. in the Performance Center started out with a reception and ended with a performance by Keith.
Taylor Webster, a freshman art major, said she stood by the railing of the loading dock by the Performance Center for more than an hour to see Keith.
"I grew up on (Keith). My parents got me into him, especially my mom," Webster said. "I've listened to him over the years. He is a great artist."
Webster said as long as she gets to meet the singer of her favorite song, "Red Solo Cup," she didn't mind missing the event.
Nichole Blocher, a freshman elementary education major, said she had been standing in the cold to see Keith and had a plan to see him.
Blocher said she planned on running down into the loading dock where two tour busses were stationed and have her phone ready to record the whole time.
"(Keith) is a country legend," Blocher said. "He is hot. He sings. He has a great voice. He is in movies. When you think of country you think of (Keith). He is the total package."
Blocher said during her Fourth of July party she only played Keith's music, including her favorite song "American Soldier."
"It's really touching," Blocker said. "(Keith) is an American, country guy."
The event started with a reception, where Mattingly, Pujols and Keith took photos with the VIP guests and spoke to the crowd.
Meredith Kim, who works for Pitch In for Baseball, said her organization partnered with Mattingly charities less than a year ago.
"We are going to make sure more kids play ball," Kim said. "We are going to do that through providing equipment to make that happen. That's why I am here to support the partnership and to support (Mattingly)."
Kim said she played softball for 12 years, which is where her fondest childhood memories were formed.
"(There is) a team unity, you travel as a team some place. You know that you are supporting one another on and off the team and on and off the field," Kim said "It's more than that, it's more than just the game, it's everything that comes with it."
Kim said as schools lose funds, the sports programs diminish and she believes all kids should have the opportunity to make fun memories the way she did.
"The funds that are being raised (tonight) are so (Mattingly Charities) can launch an RBI program locally," she said. "That will mean more kids will be able to access the game that we all love to play."
Kim said she believes students can get involved by caring about baseball and wanting to help make opportunities for kids.
"You can donate your time, you can donate your money, you can donate your talent, Kim said, "there are so many different things that small non-profit's need that is outside of money."
Pujols, who played for the Cardinals and now plays for the Los Angeles Angels of Anaheim said he was very grateful for the opportunity Mattingly gave him.
"I think at the end of the day it's about giving back," Pujols said.
The infielder b  vff5 said his family and growing up in the Dominican Republic helped get him involved in baseball.
"My dad has (a big) family with five sisters and five brothers and they don't play sports," Pujols said. "So it was really easy for me to pick up it up."
He said he started playing baseball at age 4 and started playing organized baseball at age 11.
"It's a long, long time, but it's something that I had the passion for and I loved the game," Pujols said. "It opened doors for me and gave me the opportunity to play and get better at it."
The Pujols Family Foundation started in 2005 when Pujols got involved with the Down Syndrome Association after his daughter was born with the disease. In 2006 the foundation started having mission trips to the Dominican Republic. They now go to the Dominican Republic two to three times a year.
Pujols said he believes everyone should get involved with a charity..
Mattingly and his wife, Lori, showed videos to the audience about their charity and the Challenger Baseball League, which is a part of Highland Baseball Club. The club gives kids with mental or physical disabilities the opportunity to play baseball.
Mattingly donated 25,000 dollars to the organization before the event transitioned into a live auction, which raised about 7,300 dollars with three package deals, for the CMA awards, signed merchandise by Keith and tickets to the Grand Ol' Opry.
The fundraiser concluded with Keith playing a set, including a song that was never released, " I'm A Shitty Golfer." As Keith finished his set, with "American Soldier." The song that was inspired by his father.