Men's basketball wins second straight GLVC game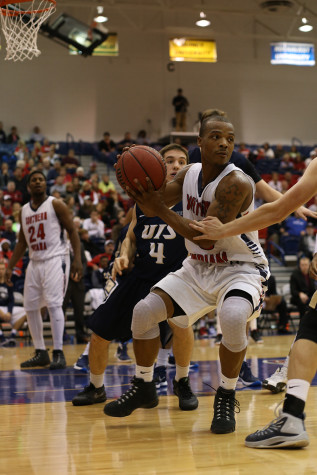 The USI men's basketball team ran onto the court with a different intensity than it has in the past.
Junior guard Bobo Drummond said that came from knowing how important conference play is.
USI faced The University of Illinois Springfield Saturday in their second GLVC game of the year.
The Eagles won the game 85-64 to bring them to 6-2 overall and 2-0 in the conference.
"This is conference, we understand how valuable wins are in conference," Drummond said. "Everyone wants to win. Everyone is scouting. We know we have to play harder in order to get the job done."
Drummond was one of the three double-figure scorers at the end of the game.
He led with 23 points, junior guard Jeril Taylor followed with 20 and junior guard Cortez Macklin rounded out the group with 18.
Macklin said before the game the players said they would come out with a different intensity because they didn't think anyone had really seen them play hard this year.
The Eagles came out to a 6-0 run from ISU, but after creating four defensive stops in a row they were able to gain control of the lead. With about 16:30 left in the first half, USI gained its first lead of the game and never let it go.
Macklin said the well-run offense comes from the coaching staff urging the players to reverse the ball.
Reversing the ball allows the team to take more time with its shot and doesn't allow anyone to hang onto the ball for too long, Macklin said.
The Eagles ended the game with 55.9 percent field-goal shooting but were 6-13 from the line.
Drummond said free throws are an area the team is not happy with.
"We might have been a lackadaisical at the line because we had the lead," he said, "but it's something we want to focus on. It takes free throws to win."
Drummond said this game helped show the team what it needs to do to be successful in conference.
"In conference, every team is going to play hard; they are going to scout," he said. "We know the intensity we have to play at in order to win."