'The carrot and the stick'
Armon Siadat
November 11, 2015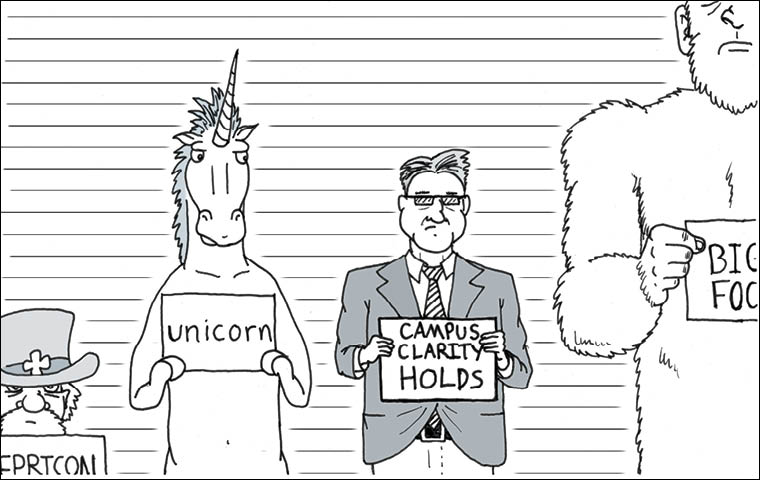 Campus Clarity holds rendered ineffective, completion encouraged
Rachal Sperka started the required Campus Clarity course Nov. 2—five weeks after the original deadline.
Despite receiving an email from the Dean of Students Office stating there would be a hold on her account and she would be unable to register for classes if she didn't complete it on time, Sperka said she never received a hold and is now enrolled in spring classes.
The junior nursing major is one of several students enrolled in spring classes who didn't receive a hold on their account.
"(When) I registered for classes I didn't complete the course," she said. "I don't think students were doing it because they were getting knowledge out of it, I think they were just doing it because they were required to."
She said most people she knows just kept clicking "Next" until they made it to the end of the course—something Associate Provost for Student Affairs Marcia Kiessling recognizes.
The amount of students that clicked through Campus Clarity just to avoid the account hold is unfortunate, Kiessling said.
"But if that was the only way we could even get them to look at that much, that's better than not having looked at anything," she said. "I know some people just sort of complained about it—and I understand that, too—but others (through Yik Yak) kind of (supported) this approach (of adding a hold)."
Kiessling said the goal of Campus Clarity was two-fold.
"One was this educational effort to help create and maintain a safe environment for our students," she said. "The other goal of it was to meet compliance regulations that are put forth to us by the Department of Education and Title IX, and that's an important compliance regulation and so we really are required to do this."
Federal law requires any university receiving federal financial aid to have these types of programs in place for all students.
"How we do it is up to us," Kiessling said. "We chose to do it through Campus Clarity. Now, this bit about the holds was a strategy to try to encourage and ensure that, number one, we met the letter of the law—which was to educate every single student on (situational strategies) —and two, that (students) would do it."
Unlike many of the other Title IX education programs the university offers, Campus Clarity was branded a requirement so that the university can say they have educated everybody, she said.
"That's why we put the hold on, because we needed some kind of consequence if you all just said, 'Well, I'm not interested in this' or, 'I'm not going to do this,'—yet we have the Title IX regulation saying you have to do this as an institution," she said.
Kiessling said the holds weren't meant to motivate students, "but a motivation for the administration to help students want to do (Campus Clarity)."
It's not the DOSO's intent to make things difficult—its intent is to remove barriers, she said.
Approximately 80 percent of students, and around 90 percent of freshmen, completed the course by the original Sept. 25 deadline.
Despite the high original turnout, DOSO extended the deadline to Nov. 2 so students who hadn't completed it still had time to avoid getting holds placed on their accounts.
"We didn't ever really want to put the holds on," Kiessling said. "So we thought, 'Well, let's give another push so that we can give students a few more days before they get that hold,' and they got holds then if they hadn't done it."
The students that hadn't completed the course by the new deadline had holds placed on their accounts and were prevented from registering for spring classes.
"We put a hold on for a few days and then we lifted it because we don't want to lose students," Kiessling said. "But we needed to put that hold on."
Kiessling said DOSO found that all but one of the students that received holds on their accounts already had additional pre-existing holds. "There were other university processes that they needed to take care of," she said. "So I think it's safe to say that even though we put holds on, we were not a primary reason for why anybody couldn't register—they had other things."
The holds, however, were only placed on first-year students' accounts.
Per university policy, first-year students automatically have "Freshman holds" placed on their accounts that prevent them from registering for their second semester of classes without meeting with their advisor.
"We did (put holds on) for the first three days of priority registration and we wanted to focus on freshman because we thought it was really important that first-year students got that information," said Bryan Rush, dean of students.
The holds were lifted on Nov. 4—freshmen, however, weren't able to start registering for second semester classes until Nov. 6, according to the university's priority registration schedule.
"We didn't really want to put holds on," Kiessling said. "We just needed to comply with the regulation and so forth."
Stephanie Nordhoff said she rushed to finish Campus Clarity to avoid getting a hold on her student account.
"Campus said, 'You have to do this by September something and if you don't then you can't register for classes," the junior education major said. "It's the only reason I did it."
Nordhoff said she doesn't think it's fair that students who haven't completed the course didn't get holds on their accounts and were able to register for spring classes.
"That's really sh*tty (that the holds weren't enforced)," she said. "It's really sh*tty that I had to make sure that I got it done so that I wouldn't get a hold on my account and there are people that didn't do that didn't have holds."
There isn't a way to enforce the course's completion by students who haven't already done so and have registered for classes, Rush said.
"At this point, we're trying to rely on the carrot and the stick," he said. "We want it to be something the students see the importance of."
Part of the Title IX requirement is on-going education, Rush said.
"I think what you're going to see is the on-going stuff throughout the year," he said. "You'll see some poster boards probably, and some flyers around campus (and) probably some educational emails will go out with reminders so that it's on-going and not a one-time only scenario."
Rush said DOSO plans on blanket emailing the entire campus Title IX resources, but "as far as active, hands-on training, we're going to really focus on first-year students who are spending their first semester on the USI campus moving forward."
The rollout of Campus Clarity this year was unique since it was the first year the university implemented this type of training, Kiessling said.
"This year, we had to do every single student," she said. "Our target audience for here on out will be our new, incoming students because that's who we went to educate."
Kiessling said DOSO will always be interested in reinforcing and helping students through other outreach mechanisms—such as last week's DOSO-sponsored Bystander Intervention program and National Collegiate Alcohol Awareness Week.
"All in all, we've done a really effective job of getting students—whether they liked it or not," Kiessling said. "Hopefully they learned something, and hopefully at some point it's going to help them."