Stay the course: Hillyard named coach of the year, teams move to NCAA Championships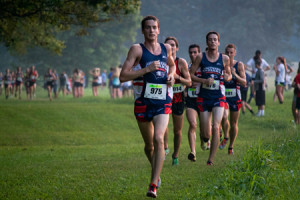 Mike Hillyard was named cross-country coach of the year after the teams won the GLVC Championships.
"To be honest it's pretty much a given most years that if your team wins you're given that honor," Hillyard said. "It's a reflection of our kids more than anything."
Hillyard ran cross-country in junior high and continued to run throughout college.
He started out at Southeast Missouri State University and ended his running career at USI.
Coaching was not Hillyard's first career choice but rather teaching physical education.
"(I taught) for a year and decided pretty quickly that's not what I wanted to do for the rest of my life," Hillyard said.
Since Hillyard ran for the university his connection led to an opportunity to become assistant men's coach under Bill Stegemoller.
After one year Tammy Nolan, the women's cross-country coach at the time, stepped down and Hillyard stepped into her role.
Hillyard spent two years with the women's team until Stegemoller retired.
Stegemoller offered the head coach job to Hillyard and he took over both the  women's and men's teams.
"I love coaching both (teams)," Hillyard said. "It's definitely a different dynamic and there's different challenges, but the basic physiology is the same."
Hillyard created a family-type atmosphere between both teams, which added to the team's long-term success.
"I think it is important that teams are close," Hillyard said, "and that they bond on and off the field of play."
When preparing for races like the GLVC championship Hillyard makes sure the team keeps "equilibrium."
The teams don't make any drastic changes going from early season to championship season.
In cross-country changes can take a couple of weeks for the body to get used to, therefore, setting the runner back instead of helping to push forward.
"Really for us the season starts with the GLVC championship," Hillyard said.
Although the women's team did not qualify for the national championship last year, the men's team qualified and placed seventh.
Hillyard has faith the women's team potential can put them in the top eight this year and the men will be on the podium at top four.
Both the men's and women's team won the GLVC Championship this year and are moving on to compete in the NCAA Championships.
The university will host  the NCAA II  Midwest Region Championships this year at Angel Mounds.
"It's rare that we host," Hillyard said.  "There's definitely a home course advantage. (The team) doesn't have to travel and their routine isn't disrupted."