Parading the decades
Nick Leighty
October 14, 2015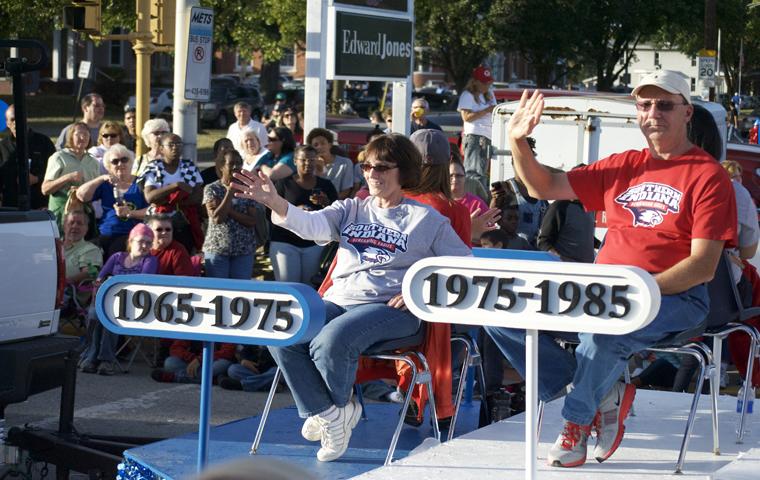 It was silent along Franklin Street Saturday as people huddled together to get the best view. Everyone waited patiently for the event to start. The intercom blared, signaling the start of the annual West Side Nut Club Fall Festival parade.
The Fall Festival parade on Saturday was a special one for the university, including its 50th anniversary float designed by USI's own Maintenance Supervisor, Jerry Bulger. This is the 26th year Bulger and his crew of three  other maintenance staff have created a float for the parade.
Bulger started designing the float a month ago to signify five decades of alumni. The float won the Community Spirit Award from the West Side Nut Club.
It featured the different decades on platforms of various heights while Archie led the vehicle and waved to the crowd. There were a total of ten people on the float, including seven alumni and three undergraduate students.
The university was also represented by a 1967 Pontiac Firebird, which held Provost Ron Rochon and his wife, Lynn. Rochon was asked to serve as grand marshal of the parade.
"Being the grand marshal was really a USI honor," Rochon said
The chairman of the West Side Nut Club contacted the university a year ago and asked for a public figure to lead the event. The university responded by volunteering Rochon, wanting a top leadership position to represent the institute.
Logan's Promise, a group made in honor of Logan Brown's death at the hands of a drunk driver, really resonated with Rochon.
"For a family to do that, it really shows strength, love and care for the community," he said.
When talking about his favorite part of the event, Rochon pointed to a group of children running around and laughing.
"That's my life. My life is dedicated to children," he said. "This should always be focused on community, raising safety and happiness for children. That's why I love this kind of stuff."
Rochon went on to explain why he loves his work at the university, saying that he enjoys being with students who lead the community.
"I love being with students who are young," Rochon said, "who are going to be leading this institution, leading this community, working towards making positive changes to the community, for the nation, for the globe."