SpringFest will no longer include concert
Students must face the music and say goodbye to a SpringFest concert, said provost Ronald Rochon.
Rochon shared his concerns about concert financing, safety and student satisfaction with the Student Government Association. For the past two years, the university partnered with University of Evansville to host a concert at the Ford Center.
UE recently pulled out of the partnership because the concerts' success doesn't match up with the high cost, and Rochon said USI would not continue the annual tradition.
"What we have to do is be realistic," he said. "There are limitations like the kind of facility we have and getting acts that students want."
The university lacks the space to host a large concert on campus and simply doesn't have the staff to ensure student safety, Rochon said.
Rochon said he wants SGA to propose ideas to help keep SpringFest, a week of campus activities like inflatables, zip-lines and crafts, successful.
"I want to give students an understanding of what we are facing," he said. "Students become the best ambassadors. They sell the ideas to other students."
SGA President Alexa Bueltel said she hopes for fresh activity ideas from members.
"(Rochon) wants us to reestablish SpringFest and create new tradition," she said. "It was good to hear him shed some light on the subject because I had heard various rumors (about the concert)."
Bueltel said she's heard several ideas for new activities from freshmen members, but SGA hasn't had a whole lot of time to brainstorm or appoint members to the SpringFest Committee.
"My freshman year, they didn't have SpringFest because they took a break," Bueltel said, "so sophomore year, it was new and exciting. The weather that week was beautiful and every student was out and about going on the zip-line and making candy."
Bueltel said students are especially stressed in the spring.
"There are a lot of things that go on during Springfest," Bueltel said, "like late night entertainment. There are finals coming up, and it's nice to be able to take a break from that."
Marcia Kiessling, associate provost for Student Affairs, said she helped bring SpringFest activities from parking lots to the Quad.
"We wanted to have a lot of activities for students to walk by," she said. "Even if only for five or ten minutes, we wanted them to still be able to participate."
Kiessling said that even though the concert costs the university a large sum, the success of SpringFest lies elsewhere.
"We have different giveaways, inflatables, walk-by henna art, snow cones and a lot of different things in a place where (students) already are," she said. "We touched a lot more students with those other activities than we did with the concert."
About the Writer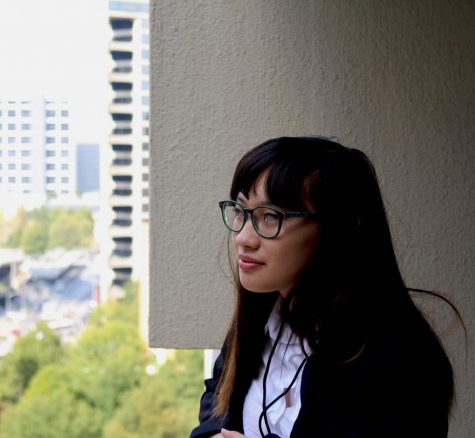 Gabi Wy, Editor-in-Chief
Gabi Wy is a junior majoring in journalism and criminal justice.