'Silence is Violence' YouTube star calls to end rape culture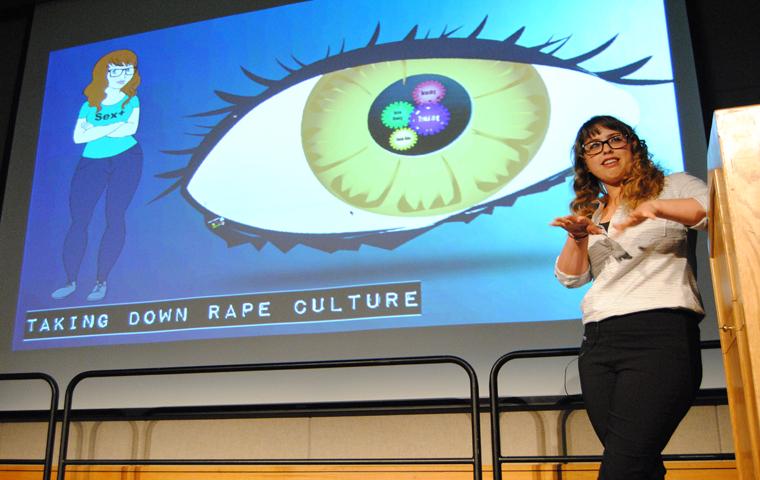 Rape culture is alive and well in the 21st century.
One of the main components of rape culture, said YouTube sensation Laci Green, is "victim shaming."
"What was she wearing?"
"How much did she have to drink?"
"That's what happens when you post pictures of yourself."
"She was asking for it."
The University of California – Berkeley grad said these are all ways victims of sexual assault are subtly blamed for being raped.
Green provided these examples and talked about tolerance and the trivialization of rape culture – what she called the "three pillars of rape culture" – in her speech Tuesday night in Carter Hall.
The Internet star attracted a full house – almost 600 people.
Green said the large audience surprised her, along with the standing ovation she received at the end.
"I am impressed with the number of men I saw in the audience. A lot of the time when I'm talking about this topic, (the audience) is overwhelmingly women, and my hope is for guys to feel like they can be a part of this conversation, so it made me very happy," Green said.
Tucker Puttman admitted to being "dragged" to the event by a close female friend, but said he didn't regret it.
"I didn't realize she was so popular. My friend was running late and I jokingly told her she should hurry because we wouldn't have seats, and then I got here and saw it was actually packed," Puttman said.
The sophomore accounting major said it was really cool to meet someone who is so passionate about making a difference.
"You don't really realize that (rape culture) is everywhere until it's pointed out to you. It's in everything we see, especially with advertising and stuff," he said. "Now that I'm aware, I see it more and more."
After Green's talk, a crowd of fans gathered in a line that wrapped around the room to get a chance to speak with Green and snap selfies.
Many students expressed to Green, who spent roughly two minutes with each fan, how her videos helped them out of dark times.
Christine Bay, a freshman biochemistry major, said she has been watching Green's YouTube videos for four years.
"I found her videos on YouTube way back when I needed some guidance, and then I saw the flyers and felt that it was an opportunity that I couldn't really pass up," she said.
Bay found Green's videos through a Google search when she was going through a hard time and said she hasn't stopped watching them since.
"I searched Google about slut shaming mostly when I was going through that and I found one of her videos on it and I found that she had a lot of great things to say about it," she said.
Bay was one of the students who stayed after to tell Green about her experiences and thank her for her videos.
"I think a lot of people who go through puberty and just growing up feel alone and to know that someone else is out there and has opinions on it, educated opinions that are meaningful, is really important," Bay said.
Green said she has been giving this talk for two years and has to desensitize herself to not be so weighed down by the heavy, sometimes negative subject matter of it all.
Green said the stories and words of encouragement from fans like Bay help.
"I'm just moved that they trust me enough to share stories with me and that they trust me enough to share that in this space and they feel comfortable enough because it's a really deeply personal thing," she said. "I just kind of take it in stride and hope that they're getting more support than just my videos or seeing me."