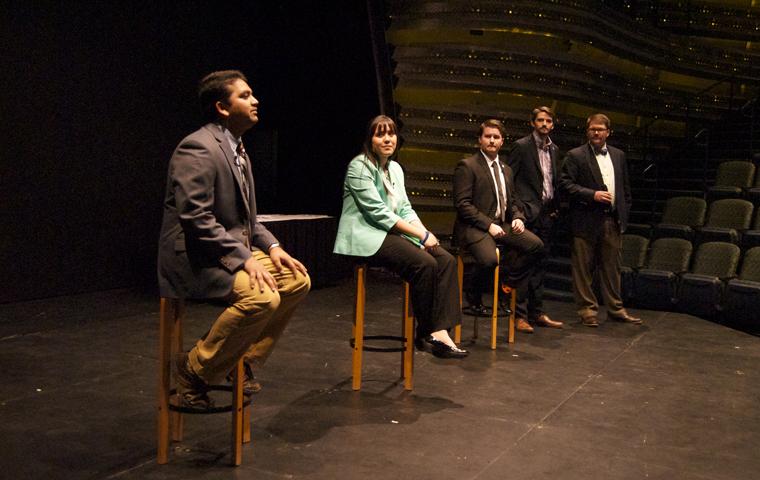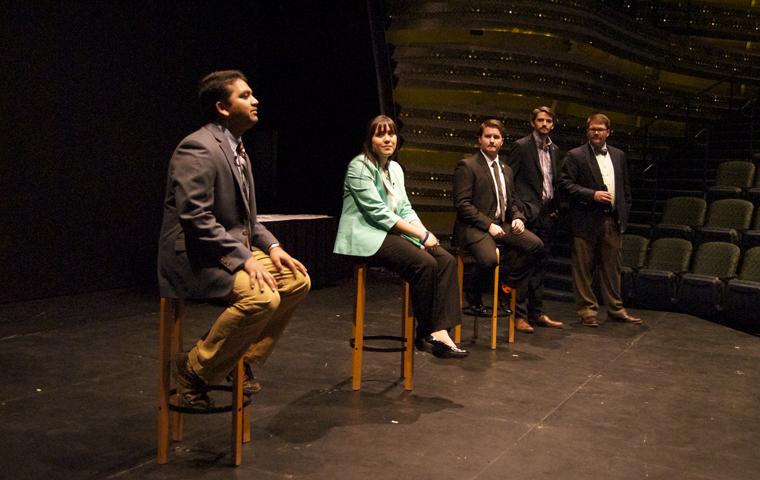 Student Government Association presidential candidates took center stage at the USI Performance Center, Thursday, to answer questions from students and President Linda Bennett.
Surrounded by a small audience of about 30 students, candidates Nehal Ninad, Alexa Bueltel and Alex Hoffmann addressed topics ranging from distance education to installing condom dispensers in the men's bathrooms.
SGA president Zack Mathis and Chief Justice Jason Miner moderated the 2015 SGA Presidential Debate, while the candidates shared their plans if elected.
Ninad said he plans to work hard to ensure student lounges are available on campus for every major. The lounges would provide a small space where students could access computers, study and print for free.
"Academics should always come first," Ninad said. "It is important that students have the resources they need."
The junior biochemistry major and Presidential Scholar said USI has invested a lot of money in his education that he "cannot repay it."
"Today, right now, I want to give back to this university by becoming its SGA president," he said.
SGA needs to make itself more accessible to students, Ninad said, adding that he would implement student forums, where students can discuss issues in an open environment with members of SGA.
"If we are representing someone, that someone needs to know who we are," he said.
Bueltel, a management major with a minor in marketing, said SGA was the first organization she joined as a freshman and that she has been involved with student government "since day one."
"SGA has made me the leader that I am today," she said. "I really want to take my experience and instill it with some of the initiatives I want to carry out."
SGA needs to do a better job making the student body aware of what resources are available to them, Bueltel said.
Last semester, Bueltel led a committee that won the bid to host this year's state-wide SGA conference. Bueltel said she would like to see USI host more events like these in the future.
"USI hasn't hosted a conference since I've been here," she said. "It's a way to show people who we are and what we've done."
Hoffmann, a radio and TV major with a minor in public relations and business administration, said the fact that he has never served on SGA is "not for a lack of caring."
"I have put myself in a position to lead our student body forward," Hoffmann said. "I am going to represent students the best I can."
A communications major, Hoffmann said he has an advantage because of his experience interacting with students on issues.
Instead of discussing specific plans if elected, Hoffmann declined to run on a platform. Instead he asked for students to tell him what changes they wanted to see on campus.
Hoffmann said he didn't want to make promises to students he couldn't keep if he lost the election.
SGA elections began Monday and end Friday. Students will receive an email from the university with a link to the online ballot.