Lukens reflects on time with President Ford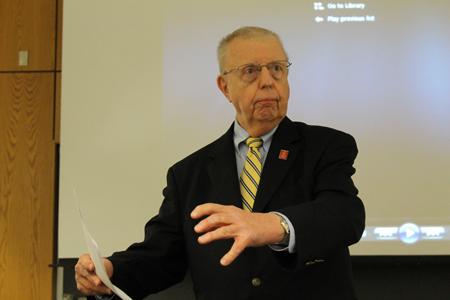 Standing 15 feet away, in his "two sizes too big suit," armed with his Beretta 22 Pistol, Horace Lukens III, a member of the White House Advance Team, witnessed the assassination attempt of President Gerald Ford by a member of the Manson Family.
"A Secret Service agent karate chopped her on the arm and she dropped the gun; then two agents tackled her," Lukens said during his lecture in Kleymeyer Hall as part of the USI's Master of Public Administration Program Speaker Series.
Lukens said the Secret Service then threw Ford into the back of his limo, an action that resulted in Ford smacking his head on the opposite door and getting a nose bleed. The crew was then faced with the decision of whether to head to the hospital or take Ford straight to Air Force One.
"In the words of the Secret Service, they decided to 'get the hell out of there,"' Lukens said.
Instead of heading to the hospital, they had police pick up an ER doctor and a nurse, who fixed Ford's nose in the "mini hospital" on Air Force One. After they landed, the doctor and nurse were immediately put on another plane and flown back to Sacramento like they were never gone, Lukens said.
Andrea Deutsch, who is a graduate student working toward her masters in Public Administration said she had heard him give a speech before and definitely wanted to come hear him speak again.
"He is very interesting when talking about working with President Ford and being right there when he was almost assassinated. It's just wildly fascinating." she said.
Another attendee, Lindsey Oliver, who is also a graduate student in the Public Administration major, said she thought it was very interesting that he was from Evansville and was able to have the opportunity to go to Washington and be that close to the president.
Lukens, a former military and airline pilot, explained that the opportunity to join the Advance Team came from his connection with Don Cox and the Republican Party, who suggested he apply.
He was working with his father in insurance as the third generation in his family to do so when the he was suggested to apply, but said his father was completely supportive of the opportunity.
"My dad said, 'My boy, you will never have another opportunity like this is in your lifetime,'" Lukens said.
Part of working on the Advance Team was working closely with the Secret Service, and no part of their plan for the president's movements were made without Secret Service approval.
Lukens remembers a time when the advance team had constructed an elaborate plan, he said, and the team was told by Secret Service, "You guys have no concept of what it means to protect the president."
Along with the plans, the president's and their wives were also given code names by the secret service.
"Ford was 'pass key,' Mrs. Ford was 'pinafore,' Carter was 'deacon,' which I think was prophetic, and Mrs. Carter was 'lotus petal,'" Lukens said.
During the time Lukens spent with President Ford, he developed a relationship with him that awarded him the ability to describe Ford, not only as a president, but also as a man.
"Ford was a true Christian. His first priority was his family," Lukens said.
When Mrs. Ford became ill with breast cancer, Lukens said Ford commandeered the entire hospital floor to become his new oval office.
"Mrs. Ford was a livewire; she was different. She said exactly what she thought," Lukens said.
Lukens said he remembers when Ford lost the election, Mrs. Ford was caught dancing on a table in the state room she was so happy to leave.
He said Ford knew he was going to lose the election in '76 and told him in the limo after a rally in Indianapolis that it was because he pardoned Nixon.
"Ford also cared about the welfare of the country," he said.
"Ford saved the country from a major constitutional crisis," Lukens said. "He will go down as one of the best presidents we ever had."
Since that time Lukens has had a strong connection to USI through adjunct teaching. He taught Entrepreneurial Finance and Principles of Risk Management in the Romaine College of business.
He now serves a consultant to the dean and is an insurance consultant for the Torian, Hofmann, and Dillow Agency.
About the Writer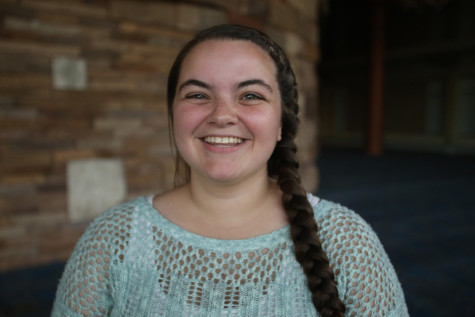 Sarah Loesch, Community Engagement Manager
Sarah Loesch is a senior journalism major with a Spanish minor.