For the first time in four years, more than one candidate is fighting for the Student Government Association's presidential seat.
The Shield sat down with both candidates to see what their plans are for the prestigious position and how they hope to improve the USI community.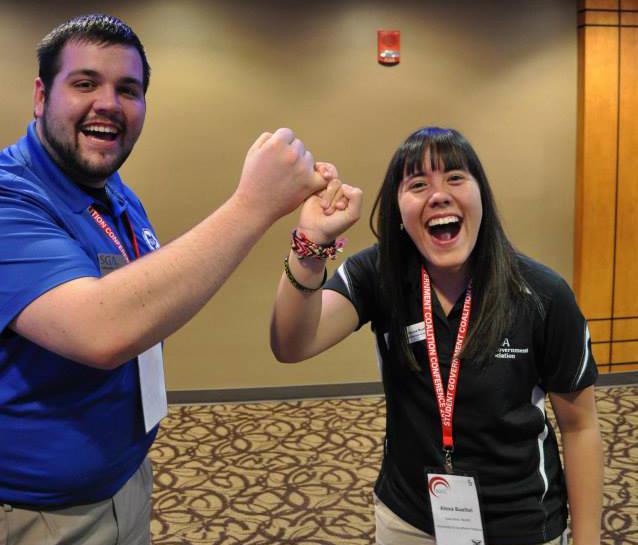 Bueltel looks to establish SGA as student voice
The first time Alexa Bueltel saw the SGA meeting room was when her brother gave her a tour of the Romain College of Business.
She said the professional setting was breathtaking.
When she sat down to take in the atmosphere, she said her brother told her she was in the president's chair.
"It was just like that little seed being planted in there and I never thought about it, but now it's actually becoming –  potentially,  hopefully –  a reality," Bueltel said.
If elected SGA president, the junior said she plans to make big moves for the students at USI.
Bueltel said one of her platform is to establish the purpose of SGA –  to be the voice of the student body.
She wants to listen to the students' wants and needs and take action to implement them so students can see what SGA is capable of, she said.
"Just a few points that I really want to touch on (are): improving some of the dining experiences on campus, communication between students and the administration, and also just making students more aware of what resources are available to them, because there is so much out there that USI has to offer," Bueltel said.
The first step, she said, would be to meet with Food Services and Associate Provost for Student Affairs Marcia Kiessling to see what goals are attainable, and then use that information to bring the plans forward.
Bueltel, who is in the Honors Program, is a management major with a concentration in human resources and a minor in marketing.
During her three years in SGA she served as Assistant Vice President for External Relations, a freshman member at large, a  College of Business representative, the founding president of Delta Epsilon Sigma Iota, an emerging leader mentor and a member of the Emerging Leader Program, as well as served on the 2014 SpringFest committee.
Off campus, Bueltel serves on the Board of Directors of the Student Government Coalition.
Bueltel said she would make a good SGA president because of the experience she's gained through her involvement.
She said some of her greatest skills are connecting with people, understanding diverse perspectives and forming authentic relationships.
"I am really excited to hopefully have this role," Beultel said, "and to really take ownership of it."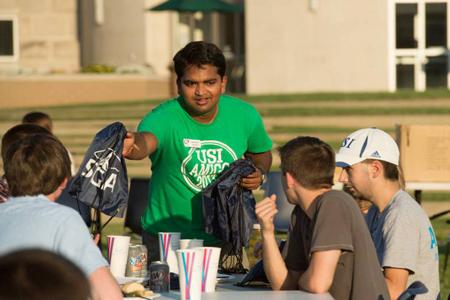 Ninad plans growth of campus amenities
Nehal Ninad came to the U.S. five years ago in hopes of becoming a neurosurgeon and obtaining a medical degree and a doctorate.
The junior biochemistry major, who is also running for president, has been a member of SGA for three years and has many goals that he wants to carry out in his potential presidency that will affect both traditional students and commuters.
"My first plan is for the commuter students. I want them to be more involved," Ninad said. "Also, I believe every space where students hang out should have a microwave. This is mainly for commuters so they don't have to eat food that is not warm."
Ninad said every study room for each academic department should have free or reduced-cost printing.
"I want to focus a lot on the academic side. I believe every academic organization that is on campus should receive a study space within the building," Ninad said. "Being a biochemistry major, I get free printing in the study rooms and I feel like it should be offered to all students in each academic department."
Ninad wants to make other amenities at USI more available to the students as well, he said, such as adding a Simply-To-Go to the Romain College of Business and extending library's hours on Sundays.
"The library needs to be open on Sundays along with Starbucks before 12 (a.m.) If they can open at 9 a.m. on Saturday, I don't see why they can't open at 9 a.m. on Sunday," he said.
Ninad also said he plans to bring more professional speakers to campus to improve student's professionalism for their future careers.
Another idea Ninad said he would implement is to host student forums every two or three weeks that will provide food and allow students to voice their concerns.
"I will focus on making the opinions of the students a reality," Ninad said.
Ninad was the Provost student leader for 2013-2014, the executive vice president of SGA in 2014, an Amigo, a freshmen member at large, volunteered for Colleges Against Cancer and was an active member of the American Chemical Society.
He is also in the Honors Program; a member of Sigma Tau Gamma and the Pre Professional Health Club, and is a math and science tutor at Academic Skills.
Ninad said his "student-focused vision" will help him achieve his goals.
SGA has a budget of about $10,000 annually, and Ninad said he wants it to go toward helping the students.
"I want more organizations to know what SGA has to offer," Ninad said. "Most students think we are here for the travel grant or other grants, but I want every organization to know that we are here. Whenever they are trying to organize an event, they can come to us to get some money and we will help them through that."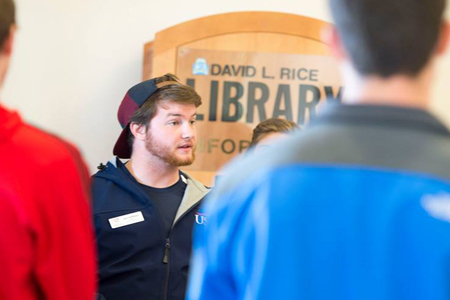 Alex Hoffmann doesn't know what he wants to do if he's elected SGA president – he wants students to tell him instead.
"I'm not going to make a lot of promises I can't keep if I'm not elected," Hoffman said. "Instead, I'm asking students, 'what are you guys looking for? What would you like to see me do?'"
The radio and television major with a double minor in business administration and advertising has never been a member of SGA.
The junior said he was interested in joining the group his freshman year and had completed all the paperwork, but couldn't join because the meetings conflicted with another group he was in.
Hoffmann said he has more time in his schedule now and wants to devote his senior year to helping students as president of SGA.
"I've always had a good relationship with SGA and even though I haven't been a member, I'm bringing a lot of fresh ideas to the table," he said.
He isn't running an "issue based" campaign, he said.
A Lafayette native, Hoffmann said he fell in love with USI during his first campus tour.
"I've always had a great experience at USI, but I know it's not that way for everyone," Hoffmann said. "That's why I want to address some of those issues and concerns as president."
Hoffman is in the Honors Program and is co-chair of the National Collegiate Honors Council's student affairs committee.
During his time at USI, he has served as an AMIGO orientation leader, a student ambassador, an emerging leader mentor and on the SpringFest executive committee.
Hoffmann said he is running a "word of mouth" campaign to find out what issues students are passionate about. He said he plans to poll students and encourages them to join his Facebook page.
Hoffman said he has spoken to current SGA president Zack Mathis and feels confident he can handle the day-to-day responsibilities of being president.
"I wouldn't run for this position if I didn't think I could give it my all," he said.
Hoffmann said he would make a good president because he isn't running for himself – he's running for other USI students.
Some of his best skills are talking and listening to people, and caring about other people's problems, he said.
"Ever since I came to USI, I've liked my experience here," he said. "As SGA president, I want to make sure you love yours."