Theatre prepares for 'Picnic' in new facility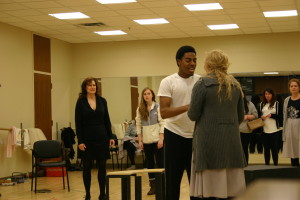 The new USI Performance Center will open its doors for the first time Wednesday with William Inge's Picnic.
The production is part of a collaboration between New Harmony Theatre and USI Theatre – the Repertory Project.
The collaboration includes professional Actor's Equity Association members Licia Watson and Leslie Alexander along with USI students Presley Roy and Katie Jones.
Picnic's plot revolves around a small Kansas community and the turmoil that is caused when a handsome drifter arrives in the joint backyards of two middle-aged widows.
Roy, a senior theatre major, will play the role of Madge Owens in her sixth performance at USI.
"Madge is the older sister. She's 18 years old and facing a lot of pressure from her mother to get married to a wealthy man so she can support herself and the family, but she has bigger dreams than that," she said. "She longs for a life of adventure and she's tired of being viewed as someone who is only a pretty face."
Roy said she can find bits and pieces of herself in the character she plays and said she thinks the audience will to.
"I think everyone who comes and sees the show will be like, 'Oh, I really feel for Madge,' or 'I sympathize because I've had those experiences.' It's definitely a mark of good playwriting if the audience can put themselves in those characters," she said.
Roy will be acting alongside her on-stage little sister Katie Jones, who will play the role of Millie Owens.
Millie is Madge's opposite – a tomboy who smokes, hangs with the boys and finds herself in a fist-fight or two, but longs for the attention her older sister receives.
"I can relate to Millie because I was – and I guess to some extent still am – Millie. I was a tomboy growing up. I saw those pieces of myself throughout the play, so when I read the character I was like, 'Oh man, this was me when I was 13,'" the sophomore theatre major said.
Picnic is Jones' second performance as a USI student. Her first was as an understudy in Next to Normal.
"This is my first show being a principle character and I'm very nervous about it because it's also the first show in the new theatre," she said.
Both student actresses said there is a certain pressure being put on them because they are performing in the first show in the new theatre.
"It has got to be a good show and I know it will be, but what helps is that everyone is excited about it. I think it's really going to dazzle some people," Roy said. "They should come to see the new theatre, and the set, and the lights, and the show, and the story, and just have a night that is totally encompassed in good solid entertainment."
Picnic will take the stage from Feb. 25, to March 1, in the USI Performance Center.
Tickets are $12 for USI students, $18 for adults, $15 for USI employees and $16 for seniors and non-USI students. They can be purchased at usi.edu/theatre or at the box office.