Food Services focuses attention on struggling C-Store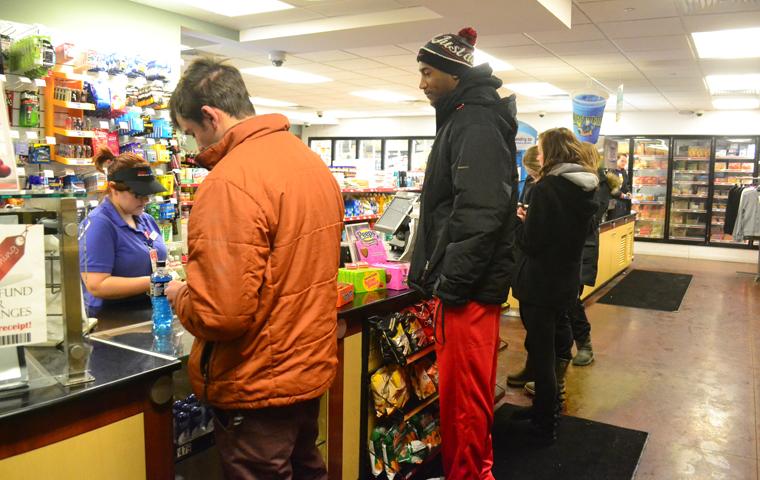 Cold pizza irritates Aaron Gottman.
While hanging out with a friend last semester in one of the residence halls, Gottman said he ordered a pizza from the C-Store and was given an ETA of 30 minutes.
He said they waited in the first floor lobby for about an hour.
"When we finally got it, it was lukewarm. I wasn't irate. I wasn't mad or anything," Gottman said. "But it's just an annoyance to wait so long and not be satisfied with something you've paid for."
The Student Housing Association president raised this issue during a Student Government Association meeting Feb. 5.
The SGA invited the student board of directors to present their plans to connect the student body with Food Services in hopes of improvement.
About 20 minutes into their presentation, the meeting took a turn when a few SGA members voiced their concerns about restaurant hours and the quality of the C-Store delivery service.
It's not delivery, it's delayed
Although Gottman did not spark the debate, he brought up the impact the delivery service on campus has on his C-Store experience.
"The C-Store can't handle as much delivery as people think it can," Gottman said. "It's one of those places that is meant for people to come to, not to ask them to come to you."
Gottman lives in the apartments and said since it is close, he prefers to walk to the C-Store at night for food, but he still faces the same waiting issue.
"Students are waiting excruciating amounts of time for food and then it arrives cold," Gottman said. "I've seen them wait an hour and a half at the C-Store just for some potato wedges and some chicken strips."
Gottman said this is because they do not have a big enough staff to handle deliveries and a packed C-Store, especially when 20 students come in at once.
Sodexo General Manager Chris Briggs said he was surprised there were issues with the delivery service.
"If there was such a big issue going on, we would have loved to fix it even earlier," Briggs said.
The delivery service began using golf carts but when demand grew, Sodexo purchased three delivery vans. Since the delivery service took off, Sodexo has also added a second pizza oven, equipment, staff and three years ago, even expanded the C-Store kitchen to accommodate for the service's needs.
"The university has been right there with us. We keep pumping more and more into this," Briggs said. "Maybe it's a mistake to keep going in this direction. Obviously it's not working."
USI is not the only university to offer campus delivery.
"Most of them fail," Briggs said. "And I was determined that ours wouldn't fail."
Before starting the delivery service, Briggs said multiple representatives from other university food services warned him he would hate it and it would fail. But he said he chose to go through with the service because of student demand. One thing that prompted the decision was the distance between the residence halls and the C-Store.
Briggs said delivery drivers have key cards to get into the halls, but when they go to use the phone at the front desk to call up to the resident's room "either their phone is disconnected or nobody's answering it" half of the time. "Most of the time, they are not even in the same room that they placed the order in," Briggs said. "They are either down talking to their friends or they're in the computer lab."
Briggs said Sodexo has talked about possibly even ending delivery service to the residence halls.
Potential solutions
Even though he is an apartment resident, Gottman has many freshmen friends who utilize the delivery service.
He said although there are many issues with the service, he thinks it "unwise" to end it.
"Once you get rid of that delivery service, all the students over at the Residence Halls are going to be filtering over to the C-Store," he said. "And it is already packed on a Friday night."
Students would be forced to walk in the nighttime, he said, which is typically when people want food, and most on campus food places close around 8 or 9 p.m.
"By the time they get back, either their food is cold or they run into an even scarier – and the most extreme – stuff where students are put in danger because they are traveling on roads that aren't well lit," Gottman said.
He said the freshmen don't utilize the phone services in the residence halls anymore.
"They are so confusing and out of date," he said. "It's just become more of an annoyance to students than a convenience."
C-Store deliverers are also forbidden from taking down students' cell phone numbers. Gottman said the students are also to blame since they usually don't sit and wait patiently for their food to arrive.
SGA proposed a few solutions, Gottman said, such as allowing workers to take down cell phone numbers.
"When you're in the apartments, they ask for your cell phone number or your student I.D. card," Gottman said.
Briggs said Sodexo will work closely with the C-Store manager to come up with a solution.
"We just need to reevaluate and see where we're going to go with it. There are other solutions. Maybe we need to get a space over there (in the residence halls) and actually put in a small little C-store over there," Briggs said. "Maybe just chips and pizzas and subs."
Sodexo Operations Manager Rebecca Diamond said the C-Store gets so crowded that many people don't hear their receipt number get called, so they have to place it in the warmer and move on.
"Maybe we need a PA system, or maybe we need flashing numbers that say the orders that are ready up on a screen to get people's attention," Diamond said.
Gottman said students need to realize that the university can only do so much.
"We're very fortunate that USI offers as much as it does, but with patience and understanding, everything will work out," he said.
Student can visit usi.sodexomyway.com/people/feedback.html to complete a feedback survey and submit suggestions.
"Blindly complaining to your friend is not a good way to change this university," Gottman said. "But talking to the right people in a constructive manor is the best way."