Focused Eagles beat Hawks
The men's basketball team beat Quincy University Thursday night 68-62.
Quincy held strong in the first half, at one point leading by five, until there was about eight and a half minutes left to play, at which time the Eagles started building a lead.
The Eagles took control of the lead with 7:16 left to play in the first half and never trailed again, leading the Hawks by 16 points for some time.
USI was led by three players in double figures. Sophomore guard Bobo Drummond led the team with 18 points and four steals. Senior forward Austin Davis and guard Gavin Schumann had 14 points each.
Davis led the team in rebounds with eight, followed closely by junior forward George Edwards, who ended the game with seven.
The team was strong offensively and defensively, but struggled at the free throw line. They ended the game shooting 50.0 percent from the free throw line, while Quincy shot 65.0 percent.
Drummond and Head Coach Rodney Watson said free throws are something that is always a focus in practice.
"It's not like we don't practice them," Drummond said. "I really don't know. They go in when they count I guess. They went in in the last seconds; that's when they had to go in and that's important."
"While we struggled we didn't let that get in our heads. Believe me we heard those groans," said Watson.
Communication on the court is a big focus in practice right now.
Drummond said communication is key when the team is on the court because each person on the team compliments each other.
"It's important to know what each guy is thinking. Even if you're not running a play for yourself, it's good to understand what the next guy is doing," Drummond said.
Watson said he thinks communication between the guys improved.
"Their sense of urgency and their communication is getting a lot better. They made really good decisions on the court," Watson said.
In the last five minutes of play, Quincy strengthened its defense, but the Eagles were able to answer and power through it, something Drummond credits to leadership on the court.
"We have seniors on the team who led us. They did a good job of taking care of the ball and it helped me out a lot to have seniors there in crunch time," Drummond said.
Off the court factors also may have helped the game and the team's mindset since the crowd in the PAC was full and loud.
"I was pumped," Drummond said. "It was great to have the fans. I couldn't be more proud that people are supporting us out here."
The Eagles will return to the PAC at 3:15 p.m. Saturday to face Truman State University.
About the Writer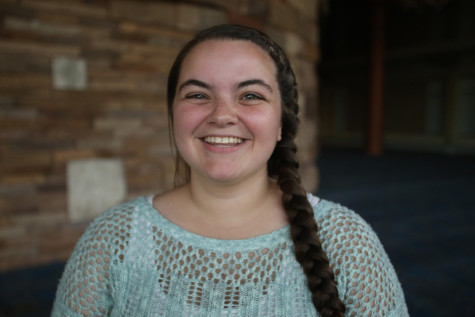 Sarah Loesch, Community Engagement Manager
Sarah Loesch is a senior journalism major with a Spanish minor.