Teams learn from holiday games, hope to see more students court-side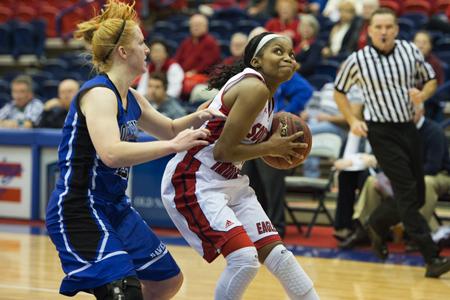 While many students were binge-watching Netflix, catching up on sleep and preparing for another semester, the men's and women's basketball teams spent winter break putting in work on the court.
The men played a total of four games over break, winning three. The Eagles entered the spring semester with three more games against Saint Joseph's College, the University of Indianapolis and Bellarmine University, coming out with two tough losses.
The men fought for the lead against number four in the country, Bellarmine, all 40 minutes of Monday's game but came out with a 13-point loss.
"They out-scored us in the paint," said Rodney Watson, men's head basketball coach. "They're exceptional in transition. For the most part, we took away their transition baskets, but they were still making it hard for us. They knew we wanted a slower tempo and you could hear them down the line saying, 'lets pick this up, play faster.'"
Watson said he was impressed with the team's plays over break, considering the men did not have a huge fan base following them. He said he was happy with the amount of students who attended the Bellarmine game.
"We played a lot of games during break. We were home when we beat Salem International and played really well. I think we just kept getting better," Watson said. "We played William Jewell and then Rockhurst and played probably our best basketball against William Jewell to date. But now we're back and we're back on campus and we need everyone to come support us."
The women's team began their winter break in Las Vegas, Nevada, competing in the South Point Holiday Hoops Classic, where the team came away with one loss and one win.
The women then returned to the Greater Lakes Valley Conference to defeat William Jewell, Rockhurst, Missouri S&T, Saint Joseph's, the University of Indianapolis and Bellarmine.
The team has only lost one game since the start of the semester in a dual with Drury University, which ended in a 10 point deficit.
"We had about a nine-minute stint there that we just couldn't get to the basket and we turned the ball over too much," said Rick Stein, women's head basketball coach. "We went from being a tied game to being down by 12."
The success the team had before and after the loss softened the blow, leaving Stein and the team with a positive outlook on the rest of the season.
"I think the main state for us has got to be the defensive end. When we guard and rebound, we have a chance to beat anybody. We can beat anyone on our schedule," Stein said. "I think we'll be better with the basketball – it's something we've been working on. We had a few stints in a couple of our losses when we just turned the ball over too much and the few practices we have, we have to continue to improve on it."
Like Watson, Stein was impressed with this week's student section.
"I hope the students are going to expect to see our players play extremely hard and that's one of the things they get every night from our group along with intensity and enthusiasm," he said. "The wins and losses are things that will hopefully come out of hard play and out of our consistent play and hopefully out of our good play."
The men's and women's teams will both compete against the University of Wisconsin-Parkside Thursday at home. The women will play at 5:15 p.m., followed by the men at 7:30.